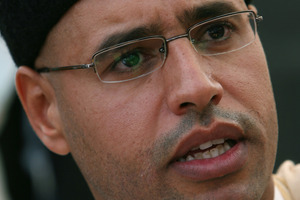 Behind a grey forbidding wall on the outskirts of the Libyan capital sits a secret prison constructed to hold just one prisoner - Saif al-Islam Gaddafi.
The heir apparent to Libya's late dictator Muammar Gaddafi will be moved here from custody in the mountain town of Zintan in the coming weeks to face a controversial war crimes trial that will pitch Libya against the International Criminal Court.
Libya's ruling National Transitional Council is taking no chances: to house this one man, they have emptied Tripoli's biggest jail, Al Ahdath, and built a prison-within-a-prison to accommodate him. I was last week granted exclusive access to the jail, which sits amid warehouses and sprawling countryside in the suburb of Tajura.
Entry is through an imposing gate guarded by militia jeeps sporting anti-aircraft machine guns. A quarter-mile drive up a tree-lined avenue ends at the buildings that previously held more than a thousand women and juveniles. Beyond that, hidden behind a 15m grey wall, is Saif's compound, a place so secret it does not yet have a name.
Home will be a specially built blockhouse which sits on one side of a courtyard. Inside are two exercise yards, each covered with sturdy steel mesh designed to combat the chance of a helicopter rescue attempt.
His cell is still being fitted out, and sits behind a plain grey door secured by a single bolt and padlock, the paint freshly applied. The blockhouse is designed so that he need never leave it, with a warren of corridors and locked doors allowing him to move between his cell and the exercise yards. Across the yard is an indoor football and basketball court, housed in a handsome beige building, looking more a luxury villa than a prison gym.
Facilities allow Saif to play five-a-side soccer and basketball, though it is not clear whom he will play with.
The luxurious conditions, which will include a private mosque, personal chef, 24-hour medical cover and satellite television, have provoked mixed reactions from the guards. "If Obama came here, or Sarkozy or Cameron, they would be very happy with the accommodation, it is luxury," said one guard in a black sweater, a Kalashnikov slung over his shoulder. "It's not a prison, it's a holiday resort."
The conditions are in marked contrast to conditions in other jails where illegal African migrants and suspected mercenaries who fought for the regime are housed under the control of militias. Months after Gaddafi's ouster, the nominal central government stands largely helpless and unable to impose its authority.
Saif, 39, whose name means "sword of Islam" was once expected to take the reins of power from his father and prior to last year's revolution was seen as a moderating force in the country.
But in the war he took a leading role in suppressing the rebels, fleeing the capital when it fell to militia forces last August. He was arrested last November in the Sahara desert dressed as a bedouin tribesman as he tried to flee the country.
Libya's Government has persuaded the Zintan militia to hand him over to federal custody, and Libya's President, Mustafa Abdul Jalil, declared last month that Saif's trial will begin once the jail is finished. "By God's will, Saif al-Islam Qaddafi will receive a fair trial."
But the decision to hold the trial on home soil has infuriated judges at the International Criminal Court, which charged Saif last year with war crimes and crimes against humanity, accusing him of masterminding a murderous campaign against Libyan civilians during the revolution.
Human rights groups complain that Libya's legal system is in chaos, and that the charges against Saif have yet to be announced. "So far as we know he has not yet been charged and obviously preparation for defence can only began in earnest once formally charged," said Donatella Rovera of Amnesty International, "the whole thing being conditional to the courts and judiciary actually functioning, which does not yet appear to be the case."
Libya's authorities insist a fair trial is possible, telling the ICC last year that "the Libyan state is willing and able to try him in accordance with Libyan law".Observer