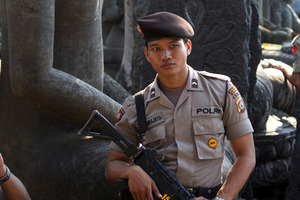 Australians have again been warned to stay away from Bali after the killing of five alleged terrorists on the Indonesian resort island.
Indonesian police said the five were believed to have included a bar popular with young Australians in a list of robbery and bombing targets found after shootouts with squads of the Detachment 88 counter-terrorism unit on Sunday.
The unit was formed after the 2002 Bali bombings that killed 202 people - including 88 Australians and three New Zealanders - and receives funding and training from the United States and Australia.
Its raids on a hotel in Denpasar and a rented bungalow in the beachside suburb of Sanur were the first major terrorism incident in Bali since the 2005 bombings that killed 20 people in Kuta and Jimabaran.
Australia's Foreign Affairs Department had been warning of a continued, serious threat, heightened by the capture in Pakistan last year of alleged Jemaah Islamiyah bombmaker Umar Patek, now facing trial and a possible death sentence on the island.
Patek is alleged to have made the bombs that destroyed Paddy's Pub and the Sari Club in 2002, and to have prepared chemicals for 13 bombs that killed about 15 people in attacks on five Christian churches in Jakarta on Christmas Eve, 2000.
The department urges Australians to reconsider their need to travel to Bali and if they did go to use extreme caution. It said terrorists were still at large and might be planning attacks that could take place at any time, especially against Western targets.
Indonesian police said a nightclub favoured by young Australians was among targets identified in planning notes and maps seized after the deaths of the terror suspects.
La Vida Loca in the Seminyak tourist area, described on local websites as a club with "no shortage of party girls and glam ladyboys" and offering nights of "full-on party mayhem", is run by an expatriate Australian.
Other targets included a money changer in Kuta and a jeweller in Jimbaran, possibly for robbery to fund further operations. Police seized two pistols, ammunition and a mask.
Several bars are believed to have been warned in advance of a possible attack by members of Jamaah Ansharut Tauhid, a splinter group of Jemaah Islamiyah formed in 2008 by jailed radical cleric Abu Bakar Bashir.
The group follows Salafist jihadism, which rejects democracy and advocates the creation of a fundamentalist Islamic state, and which regards Muslim leaders not adhering to its interpretation of sharia religious law as apostates.
Indonesian police said the group had a training camp in the Sumatran province of Aceh, and had robbed banks in Medan, Sumatra, in 2010.
Police are believed to have tracked the five men from Medan after one of the bank robberies and were tipped to their arrival in Bali on Saturday.
Three suspects were shot and killed in a bungalow on Jalan Danau Poso in Sanur, and two others - including the alleged ringleader, Hilman Jayakusuma, 32, who had been on Indonesia's most-wanted list for more than two years - in a Denpasar hotel.
The deaths came as Australia's Lowy Institute for International Policy released its latest survey on Indonesian attitudes to Australia.
Australia was the fourth most warmly regarded country after Japan, Singapore and the US, 88 per cent said suicide bombings were never justified, and two-thirds believed the 15-year jail term imposed on Abu Bakir Bashir was either too lenient or about right.
But almost one in 10 believed suicide bombings were justified, and 12 per cent were in favour of the Indonesian government encouraging militant groups to attack Australia.
The concern is mirrored in repeated foreign affairs warnings that few Australians appear to be heeding. Australians have led a 21 per cent boost to Bali's tourism industry as it steps up international efforts to attract visitors.
The island's Central Statistics Agency said 64,700 Australians went to Bali in January, a rise of more than 8 per cent over the same month last year.