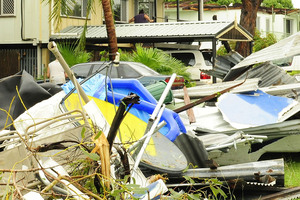 A Townsville resident has described cowering in a toilet and praying as a tornado-like storm cut a trail of destruction through the north Queensland city.
About 60 homes have been extensively damaged, including 25 that have had their roofs torn off.
About 7000 people were without power yesterday after the storm chewed up properties in a narrow band through the suburbs of Vincent, Aitkenvale, Pimlico and Gulliver yesterday morning.
Premier Anna Bligh arrived in hard-hit Vincent, where heavy rain continued to fall into the exposed interiors of roofless homes, and declared the city a disaster zone.
She said the army would be called in to help with the clean-up and many victims would be out of their homes for months.
Residents had been through a terrifying experience and it was very fortunate no lives had been lost, she said.
"These quiet suburban streets of Townsville have suffered a shocking and devastating event," Bligh told reporters. "Its force was obviously ferocious."
Trees that have been snapped in half are strewn across roads, roofing iron is wrapped around cars, fences are down, and power lines toppled by gusts of more than 100km/h are still live.
Vincent man Shane Sayers was asleep when the storm hit.
The roof of his two-storey home is now in pieces all over the neighbourhood, and one room is a shell after its windows were blown out.
He said the whole ordeal lasted less than 10 minutes. He said he knew his home was crumbling when he heard an enormous crack.
"That's when I realised the whole house was being torn apart," Sayers said. "We jumped in the toilet and just prayed."
Outside his home, trees have been ripped apart. Among the debris lie dead ibises.
Fellow Vincent resident Tracy Thomas said she and her family huddled in the hallway of their home as the tempest roared around them, taking off the roof. She said the fury of the storm was far worse than category five Cyclone Yasi, which hit north of Townsville last year. "It was nothing like Yasi ... it was worse than that." The worst of the damage was done in a terrifying burst of fury that lasted just two minutes."It was like the roar of a jet taking off. We were freaking out."
Nine people were injured during the storm, including two who were taken to hospital, the Department of Community Safety said.
The neighbouring suburb of Aitkenvale also suffered extensive damage to homes and businesses. One resident, identified only as Ann, told ABC radio she was terrified as the storm raged for 20 minutes. "Horrendous. I've never been so frightened in my life. It was just banging and noise and when we got up everybody's roofs were all over the place."
Ergon Energy spokesman John Fowler said 7000 homes were without power, down from a peak of around 17,000 earlier yesterday.
Bureau of Meteorology senior forecaster Brett Harrison said the highest recorded wind gust was 111km/h at Townsville Airport.
He said Townsville had 60mm of rain in an hour. The bureau was not describing it as a tornado as there were no reports of a funnel.
Townsville Mayor Les Tyrell said the damage had been limited to a narrow area. "There are houses badly damaged in a very narrow swathe in two or three of the suburbs, but either side of that life is still going on like normal."AAP