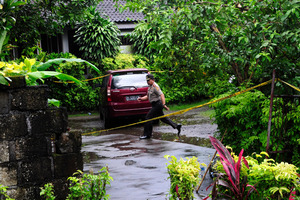 Indonesian authorities have confirmed that one of five men killed in two separate shoot-outs with police in Bali was connected to a terror cell found training at a paramilitary camp in Aceh two years ago.
The group of five suspected militants was said to be in the final stages of planning heists at Bali locations heavily frequented by tourists, with the money raised from the robberies to be used to fund terrorist activities.
National police spokesman Saud Usman Nasution said the plans for the robberies drawn up by the group had been recovered after raids on two addresses, in Sanur and Denpasar, in Bali. A number of handguns were also recovered.
The leader of the group, a 32-year-old identified only as HN, had been on Indonesia's most wanted list for two years and was believed to be involved in the armed robbery of a bank in Medan in North Sumatra in 2010.
Nasution added that HN was also wanted in connection with a terror cell discovered in Aceh in 2010, which had been planning to carry out attacks on Western targets. The Aceh camp was set up by Abu Bakar Bashir, the former leader of Jemaah Islamiyah, the group blamed for the 2002 Bali bombings.
While Bashir is serving 15 years in prison over his involvement in the Aceh network, a number of members are known to be still at large.
Nasution, the former head of Indonesia's crack anti-terrorism unit Detachment 88, which carried out the weekend raids, confirmed that the locations targeted by the group had posed a risk to tourists.
The group had been under surveillance as they scoped out several potential targets - all in areas popular with tourists such as Kuta and Jimbaran - including a moneychanger on Jalan Sriwijaya, Kuta, a jewellery store on Jalan Uluwatu, Jimbaran, and a Denpasar Cafe named Lavida Loca.
The group was in the final stages of planning the heists when about 100 heavily armed Detachment 88 officers swooped.
- AAP