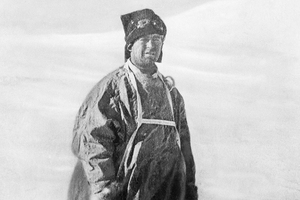 The letter is touching: a dispatch from a wife to a husband thousands of kilometres away, full of gentle reminders to brush his hair and not to smoke too much. But more than that, it overflows with hope that he'll return safely.
It was not to be. Captain Robert Falcon Scott clutched the missive to his chest as he lay freezing to death in his tent in the Antarctic, thinking of the wife and son he would never see again.
Now, for the first time, the last letter received by Scott as he embarked on his ill-fated expedition into the Antarctic wilderness is to be made public.
Written by his wife Kathleen 100 years ago, the deeply personal correspondence has been kept within the Scott family since it was found by a search team a century ago on the doomed adventurer's body.
Her note and his own final dispatch - which he wrote to his wife when he knew he was dying - together paint a portrait of a loving relationship that lasted only four years.
The 29th of this month marks the centenary of the death of the explorer and his team, who all perished on his second trip - the Terra Nova expedition - to the Antarctic in 1912.
Ironically, the letter reveals his wife's optimism and her belief that he would return in triumph.
Other personal effects found on Scott's body and never before seen in public include an initialled case in red leather containing a picture of his wife and young son, Peter. The letters will be brought to life in a new ITV drama-documentary, Words of Captain Scott, to be broadcast in Britain on March 31, with Dougray Scott as Captain Scott.
The explorer's grandson, Falcon Scott, who inherited the letters from his father, Sir Peter Scott, a naturalist, said he decided to release them to mark the centenary of his grandfather's death.
"Despite revealing the contents, I've kept the actual letter because it's quite personal and I'm just not ready to put it into a museum just yet." he said.
"I think that my children have the right to make that choice during their lives. But the next best thing is to publicise what we have got and ensure the public do have access to it in some way."
- Independent