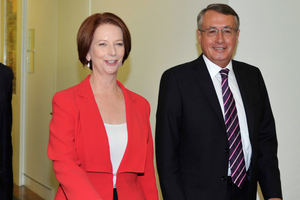 Australia needs to find "significant savings" in the Budget to be presented in May, as the Government remains determined to return to surplus in the next fiscal year, Treasurer Wayne Swan said.
"One of the lingering effects of the global financial crisis has been a massive writedown of tax receipts," Swan said.
"This will inevitably flow through to the budget bottom line and obviously means we will have to find significant savings in the May Budget."
Business profits unexpectedly dropped in the three months through December, by the most in 2 years as earnings weakened at mining and financial companies. Australia posted its first trade deficit in 11 months in January, as weaker shipments of iron ore and coal contributed to the biggest drop in total exports in almost three years.
Under the Treasury's midyear review released in November, government revenues were down A$140 billion ($180 billion) in the five years to 2012-13 from the pre-crisis forecast, Swan said.
There has been further weakness in company tax receipts since then, according to the Treasurer. The country's terms of trade were also expected to gradually decline in the years ahead, as global commodity production increases, he said.
Australia's economic growth slowed to 0.4 per cent in the fourth quarter from the previous three-month period, according to figures released on March 7. The median estimate of economists surveyed by Bloomberg News was for gross domestic product to expand by 0.8 per cent.
The fourth quarter number was "a solid result" given the European debt crisis, Swan said.
"Maintaining our fiscal rigor is absolutely essential at a time when markets are punishing those without discipline," Swan said. It "provides the Reserve Bank with maximum flexibility to respond to any further deterioration in the global economy".
The Reserve Bank of Australia left its benchmark interest rate unchanged at 4.25 per cent on March 6 and reiterated that it has scope to lower borrowing costs if demand weakens "materially".
- BLOOMBERG