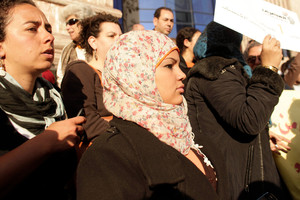 An Egyptian army doctor, who was the only person to stand trial accused of forcing female protesters to undergo "virginity tests" after demonstrations last year, has been cleared.
The verdict outraged activists who say it shows the military has no intention of prosecuting people accused of committing abuses during its rule.
Samira Ibrahim, 25, fought a lonely battle against the military rulers after alleging she and six other women were forced to strip naked and undergo an inspection to "test their virginity" after being arrested during a demonstration in March last year, just weeks after President Hosni Mubarak was toppled.
Yesterday a military court acquitted the only defendant - Dr Ahmed Adel, who had been accused of public indecency. Judges cited differing witness statements, and denied any such tests had been carried out, despite a previous court ruling in December which established such inspections had indeed existed. Top generals had also admitted to both the media and Amnesty International that the tests had taken place.
Following the case's collapse, Ibrahim took to Twitter and vowed to continue her fight. "No one stained my honour," she wrote. "The one that had her honour stained is Egypt. I will carry on until I restore Egypt's rights."
The verdict brought widespread condemnation from human rights groups, who accused Egypt's rulers of exploiting the widely derided military court system to conduct a legal whitewash. "This was not an independent judicial body reviewing the conduct of a law enforcement official," said Heba Morayef from Human Rights Watch, a witness who gave evidence during the trial. "The military will obviously protect its own."
Amnesty International called the verdict a "travesty of justice" .
The accusations of degrading treatment of women come amid a slew of incidents which have soured the euphoria of last year's uprising, including alleged abuses of power by Egypt's military, the torture of detainees and the trial of up to 15,000 civilians in military courts.
The "virginity test" accusations surfaced after Ibrahim and 20 other women were arrested during a rally in Tahrir Square last year. The protesters were demanding swifter reform after the military seized power following massive protests demanding an end to Mubarak's three-decade rule.
The women were detained in the grounds of the nearby Egyptian Museum, but later transferred to Cairo's C28 military detention facility along with dozens of male activists. It was here that, according to the women, the virginity testing occurred.
- Independent