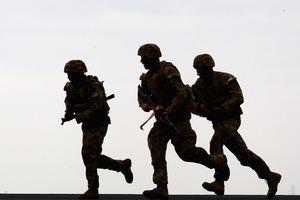 Australia is set to crack down on the macho military culture that has produced hundreds of cases of sexual and physical abuse, blocked women from leadership and relegated many to support and menial roles, and tolerated heavy drinking.
In a top-to-bottom examination of its flaws in a series of disturbing reports, the Defence Force has accepted that efforts to clean up its problems have so far fallen short.
"These problems are real. They can't be dismissed as unremarkable or aberrant behaviour," Defence Secretary Duncan Lewis said.
Adding to moves already under way - including the opening of all combat roles to women - defence chiefs will now oversee new measures ranging from breath-testing on bases and lessons on sexual ethics to better maternity leave and programmes to promote women into top jobs.
The programme follows years of revelations of violence, bullying, sexual abuse, misogyny and racism in the ranks, brought to a head by the broadcasting on Skype of the seduction of a female cadet at the elite Australian Defence Force Academy in Canberra.
Two cadets have yet to face court over the incident, which also forced academy commandant Commodore Bruce Kafer to take leave from last April amid claims of mismanagement by Defence Minister Stephen Smith.
This has now come back to haunt Smith: a review of the affair by Andrew Kirkham, QC, found that allegations of harassment of the victim after her complaint were untrue and that Kafer's decision to proceed with other disciplinary charges against her was correct. The review found no legal basis for action against Kafer. He will resume his duties this week.
But Smith has come under furious political fire, fending off demands for his resignation and claims that he has severely damaged his relationship with the Defence Force.
The row over Smith's management of the academy incident has tended to overshadow the endemic problems facing the military, the most immediate of which centre on allegations of abuse dating back to 1951.
A report by law firm DLA Piper found that 775 of the more than 1000 reported to its inquiry were plausible and required further action, with a new body needed to consider options ranging from criminal charges to compensation and public apologies.
Defence Force chief General David Hurley said the allegations, some of which involved "extremely serious" claims of criminal acts, would take time to investigate.
Beyond abuse, the Defence Force will also take a hard look at the role of women in a military that is 86 per cent male, reluctant to accept females as leaders, and which a review led by former Deputy Public Service Commissioner Carmel McGregor described as a "boys' club".
Military chiefs will now be ordered to "reinforce the importance of gender diversity", push women into senior decision-making bodies, create a new focus on identifying and developing women for leadership roles, and establish a maternity leave pool.