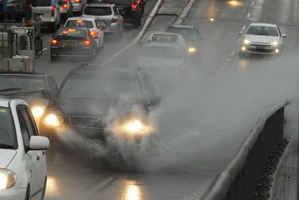 Sydney has suffered some of its worst flooding for years, bringing the city's transport to a halt and forcing evacuations.
About 20 people were evacuated from a retirement village in the city's southwest as wild weather escalated the NSW flood crisis.
The wild weather forced flight delays at Sydney Airport, with reports of delays and diversions because of heavy rain and strong winds.
It was not immediately clear how many flights were affected but passengers were urged to contact airlines for the latest information.
Sydney's transport system was thrown into chaos by the weather.
There were delays on nine of the city's 16 main railway lines, including the Eastern Suburbs, Bankstown, Inner West, Airport, South, North Shore, Western, Olympic Park and Northern lines.
Dozens of roads around the city were also shut.
Fire and Rescue NSW said 250 firefighters from more than 50 fire stations had responded to dozens of incidents across the city.
Most of them related to flooding, Superintendent Ian Krimmer said.
Pedestrian subways had flooded at Marrickville, Summer Hill and Ashfield railway stations, he added, but no injuries had been reported.
The Scalabrini Retirement Village in Edmondson Avenue, Austral, was evacuated this morning after the nearby Bonds Creek broke its banks.
"The creek broke its banks there so it was a pre-emptive flood rescue," a State Emergency Service (SES) spokesman told AAP.
At Rossmore, also in the city's southwest, two motorists were rescued after four cars were caught in flash flooding.
Other motorists were rescued in Campbelltown and Austral.
Storms lashed the city, the NSW south coast and other parts of the state overnight.
Seven homes near the Jerrara Dam, at Jamberoo, west of Kiama, were evacuated this morning after the rain filled the dam close to overflowing.
The order was thought to have affected about 20 people.
A policeman was lucky to escape serious injury when he fell down a mountain in NSW's Southern Highlands.
The 40-year-old male sergeant was sent to Moss Vale Road on Cambewarra Mountain, in Nowra, about 12.30am (AEDT) on Thursday to help the State Emergency Service (SES) deal with a fallen tree.
The officer was standing by the side of the road when the surface gave way, sending him plummeting down the side of the 650-metre high mountain.
His fall was halted by vines about 30 metres down.
Emergency services rescued him and he was taken to Shoalhaven Hospital in a stable condition.
Meanwhile, residents of southwest and central west NSW continue to deal with major flooding.
The area around Griffith, in the state's Riverina Region, and Forbes will be the main focus for emergency services today with substantial flooding continuing in both.
An SES spokesman said 120 properties were flooded in Beelbangera, just outside Griffith, overnight into this morning.
The Lachlan River system, around Forbes, is expected to peak at about 10.65 metres tonight, potentially causing more flooding.
Flooding has eased slightly in Wagga Wagga but about 600 people in the city's north and a number in neighbouring Gumly Gumly, are still unable to return to their homes because of inundations.
- AAP
-AAP