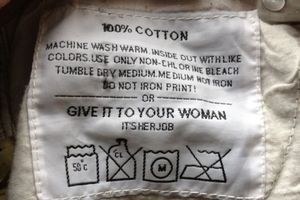 Trousers being sold by a British discount chain clothing store have sparked online outrage over their "sexist " washing instructions.
Daily Telegraph journalist Emma Barnett said she discovered the instructions "give it to your woman" on her boyfriend's beige chinos, which were purchased from the Madhouse flagshop Oxford Street store last month.
The washing label on the chinos began by setting out common washing instructions: "Machine wash warm. Inside out with like colours. Use only non-chlorine bleach tumble dry medium. Medium hot iron. Do not iron print."
It then offered an alternate option: "Or - Give it to your woman, it's her job."
Madhouse, a United Kingdom chain of discount men's clothing stores, has faced a fiery backlash, with Twitter users branding the chain shameful and outrageous.
London resident Julia Hines tweeted, "That is extraordinary! Name & shame brand (presumably shopping is also women's work)".
Another tweeter, publicity executive Vanessa Truskey, voiced her opinion: "Lately I can't tell which decade I'm living in. What brand are those trousers?! I can only assume that's a joke."
Others found the trousers suited their sense of humour.
Stephen Robinson tweeted "Someone needs to learn to take a joke", while Camilla Brown used Twitter to say: "Some people are so sensitive. It's a JOKE. And a great stunt."
In reply to the Daily Telegraph story, a Madhouse spokesman said: "The chinos in question are manufactured by a jeans brand that we stock but the care instructions on this product were not proofed by our buyers who normally concern themselves with quality, style and price of the products they order. The first Madhouse was aware of the care instruction on this product was today.
"The wording was not instigated or ordered by Madhouse. The wording is clearly meant as a joke but now it has been pointed out to us it is something we will need to be more careful about in the future."
- APNZ