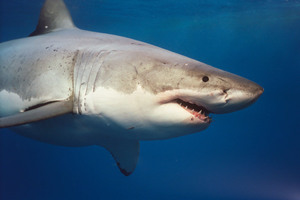 A Melbourne Aquarium diver was injured when a shark bit her face during feeding time.
The woman, in her 30s, suffered at least three lacerations to the right side of her mouth yesterday at an exhibit that is home to dozens of sharks.
"She's lucky it wasn't on her nose or her eyes or lips," a paramedic said.
The diver was taken to hospital in a stable condition after being treated. Melbourne Aquarium said the woman had suffered a "superficial facial wound" from a 40cm tawny nurse shark that did not have sharp teeth.
Last year, two divers were stabbed by stingray barbs. A 37-year-old woman's right hand was struck by a barb in May while four months later a man was stung while accidentally kneeling on one of the animals.
The aquarium promotes itself as an approved operator for interactive shark dives and walks with feeding times occurring at least twice a day.
"Experience the ultimate adrenaline rush of coming face-to-face with a shark, one of the most feared creatures of the deep," the aquarium website says.
- AAP