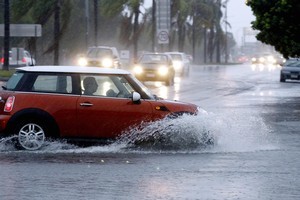 A huge, slow-moving rain system is forecast to continue drenching New South Wales, the Australian Capital Territory and northern Victoria today.
Flooding has forced hundreds of evacuations and dozens of rescues.
Three-quarters of NSW was late yesterday under water or at risk of flooding, major dams in Sydney and Canberra were expected to spill - and there is little hope of relief in the next few days.
"This rain band has been an extraordinary event as we rarely see rain of this magnitude in this part of the state, and we rarely see a low trough hang around for as long as this trough's going to," NSW State Emergency Services spokesman Dieter Geske told ABC radio.
While not of the severity of earlier summer flooding that inundated dozens of towns and isolated entire communities, the sheer scale of the unprecedented rain band has stretched resources.
Roads and highways have been cut, and worse is expected as torrential rain continues over vast tracts of NSW, Victoria and the national capital, which by the end of the first day of March had exceeded its average rainfall for the entire month.
In NSW flood watches are in place in eight river systems, and warnings extend from western Sydney south to the Victorian border, and across the Southern and Central Tablelands to the Snowy Mountains.
Yesterday a nursing home was evacuated and hundreds of people were told to leave their homes in Cooma, at the foot of the Snowies.
Others were ordered to evacuate parts of Goulburn, west of Sydney, and more fled their homes in Cowra, in the central west of the state.
Flood warnings were issued for Bathurst, and for Kiama on the south coast.
Sydney was expected to escape the worst, although homeowners and farmers to its west were placed on alert as the Warragamba Dam, which supplies the city with most of its water, was predicted to spill for the first time in 14 years.
But engineers said floodgates would release water to ease pressure on the dam, and only moderate flooding was expected downstream in the Hawkesbury-Nepean River.
Heavy rain is also drenching the far west, where Broken Hill received more than 100mm in the past four days, closing highways and roads.
In Victoria, most rain has fallen across the northeast in downpours that have flooded properties, closed roads, and trapped people in cars and houses. Hundreds of people around the Goulburn Valley towns of Tallygaroopna and Congupna, near Shepparton, have been evacuated.
Flooding was also reported in the Murray River towns of Yarrawonga and Bundalong, about 230km northeast of Melbourne.