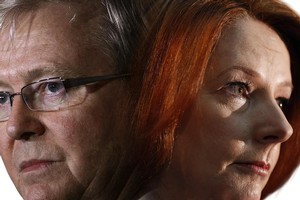 Australia's former Foreign Minister Kevin Rudd has accused Prime Minister Julia Gillard supporters of the same "shock and awe tactics" employed during the Labor Party leadership coup of May 2010.
Rudd was flanked by his wife Therese Rein as he fronted media this morning at Brisbane Airport.
However rather than formally announce he would compete for the party's leadership, he said a statement would be made on his decision later today.
Rudd had just landed in Australia after resigning as Foreign Minister while he was in Washington on Wednesday.
Gillard yesterday announced a ballot will be held on Monday, with Labor's 103 member caucus deciding who will lead the party at the Federal Elections to be held next year.
Rudd told reporters he has seen the same "shock and awe tactics" employed by Gillard's supporters during the May 2010 leadership coup.
Gillard ousted Rudd as leader and went on to win that year's Federal Election, however has seen her support plummet ever since.

Rudd said "for the last 12 months Mr Abbott has been on track to be the Prime Minister by a landslide" and the party needed to decide who was best equipped to ensure that does not happen.
He said Abbott has his "head buried in a different age ... certainly not the 21st Century".
Rudd said he was not the "antichrist incorporated", despite repeated attacks on his reputation by parliamentarians aligned with Ms Gillard.
He challenged Ms Gillard to assure any Labor Party colleague they would keep their parliamentary position if they voted for him in a leadership battle.
He said he and the Prime Minister have different views on core issues, such as tax reform for small business, how to boost the Australian manufacturing industry, and reform in the health and education sectors, as well as the future of the Labor Party.
Rudd asked whether Gillard has the "trust and confidence" of the Labor Party and the Australian people.
"This is ultimately a question of people power."
Yesterday, Rudd told media in the United States he had spoken to colleagues who considered him to be "the best prospect to lead the Australian Labor Party at the next election".
"I do not believe Julia Gillard can lead the Australian Labor Party to success at the next election."
Later in the morning, Gillard shot back, saying she was "disappointed that the concerns Mr Rudd has publicly expressed ... were never personally raised with me, nor did he contact me to discuss his resignation prior to his decision".
"It is now evident to me and I think it is evident to the Australian people that there has been a long-running destabilisation campaign here to get to this point where Kevin Rudd is clearly going to announce that he wants to seek the Labor leadership."
Coalition leader Tony Abbott is simply standing back and advising voters to watch the war that has erupted within a "dysfunctional Government ... unworthy to continue in office".
"Only the Coalition can provide the strong and stable government that will address the issues facing our country and restore hope, reward and opportunity for all Australians," he said.