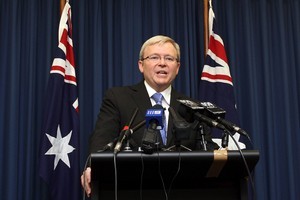 Australia's former Foreign Affair's Minister Kevin Rudd says he has the support to challenge Julia Gillard in a battle for the Labor leadership.
Ms Gillard has confirmed a leadership ballot will be held on Monday, to sort out the leadership of the Labor Party "once and for all".

She's held a press conference, saying the business was a "distraction" from the business of government that needed to be sorted out for the good of Australia.
Rudd too, held another press conference in Washington, following his spectacular announcement at 1am local time that he was quitting as the country's foreign minister.
He accused Prime Minister Julia Gillard of deserting him in the face of continual attacks on his integrity by a "number of faceless men'' and frontbencher Simon Crean.
In his latest press conference, Mr Rudd said new leadership of the party was needed - although he did not declare he will be challenging .
"I do not believe Julia Gillard can lead the Australian Labor Party to success at the next election."
Mr Rudd said he would declared his position after arriving back in Australia and talking to colleagues.
He said he had spoken to colleagues overnight, who "regard me as the best prospect to lead the Australian Labor Party at the next election".
Mr Rudd expressed "contentment, happiness and surprise" at the level of support for him.
He was "shocked and disappointed at the tone of personal attacks launched against me overnight in Australia".
"I would urge my own supporters not to retaliate," he said, adding negative politics have no place in Australian Labor Party.
However he would not speculate whether he had the numbers in the caucus to topple Ms Gillard.
"Anyone is a mug who believes in circulated lists of numbers at this stage of a possible ballot process,'' he said.
"There is a huge doctrine of enlightened self-interest at work when people put out one list or another in terms of how many numbers people have.''
Mr Rudd said the question of the party's leadership was "not about personality, it's about trust, it's also about policy, it's about vision".
He said the party's achievements when he was leader were "formidable", including getting through the Global Financial Crisis without entering recession.
Then, with a gesture highly reminiscent of his time as prime minister, Mr Rudd ended the press conference to head for the airport for the trip back to Australia.
"Folks, as they say in the classics, I've gotta zip.''