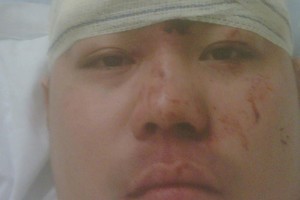 Two Singaporean men who were allegedly beaten by a New Zealand stockbroker are disgusted that the Kiwi has left the country and have appealed to him to return to face the courts.
Former Junior Tall Black and broker Robert Dahlberg skipped on his $24,000 bail late last year while facing charges of grievous bodily harm and assault on two men in April. A warrant has been issued for his arrest.
Singaporean student Paul Louis Liew Kai Ming, 27, had his nose broken and suffered a 6cm gash to his forehead after the taxi he and friend Lawrence Wong Seong had hailed was "hijacked" by Dahlberg and two others. Two taxi drivers were also involved in the altercation.
Mr Louis, an events manager at the time, told the Herald he was forced to take a month off work to recover from injuries. "The wounds were so bad - it is still a traumatic scene for me."
Earlier in the evening he had been celebrating Mr Seong's engagement. When they caught a taxi near City Hall around midnight, they were allegedly attacked by Dahlberg, originally from Nelson, and colleague Robert James Springall, from the UK.
Australian Nathan Robert Miller also allegedly played a role in the row by jumping on the bonnet of the taxi. The three men had allegedly been drinking heavily at a boxing event nearby.
Mr Seong said the men had become angry when they could not take a taxi that had been booked by someone else.
Mr Louis claimed they had attempted to defend the taxi driver - who suffered from a heart condition - and were punched and kicked.
Mr Louis was allegedly pushed into a metal pillar twice, causing his face to bleed heavily. Mr Springall then reportedly stole the taxi from the stand and crashed it into a pole.
If found guilty, Dahlberg faced up to 10 years in jail and the cane. His New Zealand-based family have said he passed through New Zealand then headed overseas, and had no intention of returning to Singapore.
Mr Louis said: "It basically is a very cowardly act. I really hope that some message can be conveyed ... to encourage him to be accountable.
"Singapore is not a lawless country. This sort of thing cannot be tolerated.
"It is always easy to run away, but it really shows how deep your fibre is if you are accountable for your own actions."
Mr Louis said he and Mr Seong told police they did not want an out-of-court settlement because they wanted the accused men to face the charges.
He is moving to Australia to study law, but would return to Singapore if Dahlberg reappeared in court.
Miller, 35, was last week jailed for three weeks for disorderly behaviour.
Singaporean authorities would not confirm whether they had made any extradition requests for Dahlberg. The country has extradition agreements with Commonwealth countries.