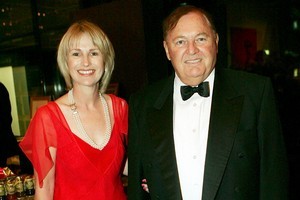 Australian businessman Alan Bond yesterday struggled to find the words to describe the death of his "beautiful wife" of 17 years, Diana Bliss.
Mr Bond, the man who bankrolled the America's Cup-winning Australia II syndicate in 1983, phoned the ambulance on Saturday morning after finding his wife's body, reportedly in the swimming pool, at their home in the upmarket Perth suburb of Cottesloe. Australian media reports said Mr Bond tried desperately to resuscitate his wife.
Yesterday morning Mr Bond, 73, was asked how he was feeling as he arrived back home from church.
"It's so new, I mean, we are ..." said Mr Bond, pausing and clearly having difficulty speaking.
"I lost my beautiful wife."
Later his daughter, Jody Fewster, made a brief statement saying her father was too distraught to say anything more but confirming Ms Bliss, 57, had been sick for a while.
"The family is devastated, her [Ms Bliss'] friends are devastated and Dad just can't talk at the moment.
"We would really appreciate a little bit of privacy at this time.
"I just really appreciate your interest because she was beautiful but that's about all we can say at the moment. We hope we'll be able to put something in writing and put that down to share with everyone but at the moment really Dad can't speak to anyone."
Friends said Ms Bliss suffered from depression and anxiety and had been recently treated in hospital. But the former flight attendant turned theatre producer was regarded as a "ray of sunshine" to those who knew her.
Mr Bond and Ms Bliss married in 1995 after he and his first wife, Eileen Hughes, divorced after 37 years of marriage. They had separated three years earlier.
Police have ruled out suspicious circumstances and the coroner is investigating the death. A post-mortem examination is expected to be done within days.
Once one of Australia's most prominent businessmen, Mr Bond was declared bankrupt in 1992 with personal debts totalling A$1.8 billion ($2.3 billion).
He was subsequently convicted of fraud and served four years in prison.
- APNZ