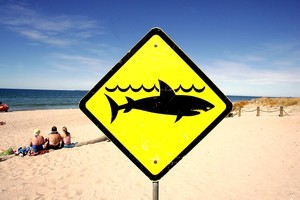 SYDNEY - A 3m tiger shark has attacked a swimmer off a remote beach in Australia's third attack this month. That's as many attacks as the country generally sees in an entire year.
Western Australia Police Sergeant Gerry Cassidy says the man was swimming in a lagoon at Western Australia's Coral Bay yesterday when the shark bit the man's arm. The attack left the swimmer with severe lacerations.
Royal Flying Doctor Service spokeswoman Joanne Hill says a doctor was assessing the 26-year-old man, but his injuries were not life-threatening and he was in a stable condition.
A shark attack near Newcastle hasn't scared away swimmers, who were back in the water yesterday after beaches reopened along the coast.
At least 24km of coastline was closed after Glen Folkard was dragged under water by a shark at Redhead Beach on Wednesday night.
The fish, thought to be a bull shark, tore his leg open and took a chunk from his surfboard.
Beachgoers flocked back to Redhead beach, Blacksmith Beach, Caves Beach and Catherine Hill Bay after they reopened yesterday afternoon, a Lake Macquarie council spokesman said .
Folkard, known as Lenny, fought his way free and with the help of mates began paddling back to shore. The shark that attacked him seconds earlier circled, its fin slicing the surface, as the bleeding and wounded tattoo artist made his way to safety.
The 44-year-old had surgery for a deep laceration on his leg and was in a stable condition yesterday.
Witnesses said the fish appeared to circle, possibly readying itself for a second attack.
"It was definitely coming around again, you could see the fin and he [the shark] looked ready to attack," said surfer Tony Constance.
"It was kind of like Jaws ... where everybody's pulled out of the water and it's a hot day and the water's inviting," another witness said. "My son actually said he saw the shark leap out of the water and grab a fish ... His [Folkard's] skin was really grey, he obviously lost quite a lot of blood."
Around 500 people were on the beach, with about 100 in the water.
The Newcastle Herald said Folkard was the furthest out of a group of about 15 surfers.
"He just started yelling 'help, I need help'," surfer Nathan Visscher said. "I saw a trail of blood coming from him and then his board popped back up. He was able to get back on his board and try and paddle away but he was pretty disoriented."
Another witness, Tony James, told the Newcastle Herald : "It's just hit him and took him under for a bit. He's managed to get to the surface but I saw it start to follow him."
The Westpac Helicopter patrolled the beach yesterday and found no sharks in the area.
"Our lifeguards have now been out on jet skis to check the area and it is all clear, so we have reopened all beaches," lifeguard supervisor for Lake Macquarie City Council Paul Stone said.
The attack followed another at North Avoca, on the central coast, at the beginning of the month in which a shark bit a surfer on the arm, but Stone said it was important to remember that encounters with sharks were rare.
"We should realise that one million swimmers are on our beaches. So one or two attacks is not that common."
AAP, AP