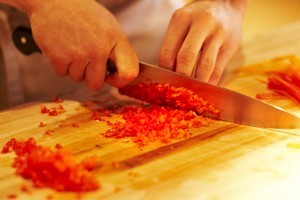 India and Pakistan will go to war next week. And thousands of foodies from across South Asia will tune in to watch.
Neatly bringing together two national pastimes of eating and regional rivalry, the reality cooking show Foodistan will pitch a team of professional Pakistani chefs against a team from India. Three nights a week, viewers will be able to see the two sides compete in the kitchen.
"India and Pakistan are two nations who share a common passion for good food," said Smeeta Chakrabarti, the CEO of NDTV Lifestyle, which is broadcasting the show in India. "And this love for food is something that binds the two nations, despite the numerous differences."
The producers of the show, filmed over three weeks in New Delhi, are tapping into a growing appetite among the region's upper-middle class for food, fashion and "lifestyle" products. In India especially, television programmes about food and travel are increasingly popular.
India recently completed the second series of its franchise of MasterChef, and Australian MasterChef is said to have been one of the most successful imports.
One of the Pakistani chefs taking part in the series, Poppy Agha, has her own culinary institute in Karachi and a show on Pakistani television, A Taste of Fusion.
To avoid cultural controversy, the cooking contests involve neither beef nor pork. The chefs have also been sworn not to reveal the eventual winner.
However, thanks to the blog of one of the judges, audiences have already been fed an appetiser of some of the dramas they can expect - a Pakistani chef walking out because he felt the judges did not fully understand the true flavours of his country, another Pakistani chef winning over the crew by singing Bollywood film songs, and a famed Indian chef cracking under pressure.
- Independent