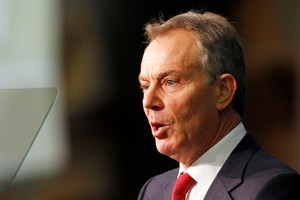 Former ministers in Tony Blair's government are expected to be questioned by police over their alleged role in human rights abuse, in a new Scotland Yard investigation into how dissidents were sent to Libya to be imprisoned and tortured by Muammar Gaddafi's regime.
The focus of the inquiry will be the involvement of MI6 in the arrest and rendition of two men.
Jack Straw, Tony Blair's foreign secretary between 2001-06, will be interviewed, police and Whitehall officials said, as he would have had to "sign off" operations by MI6 at the time in question. One senior official stressed: "These [operations] were in line with ministerially authorised government policy."
The Director of Public Prosecutions, Keir Starmer, and the Metropolitan Police Service declared yesterday in a joint statement: "The allegations raised in the two specific cases concerning the alleged rendition of named individuals to Libya, and the alleged ill-treatment of them in Libya, are so serious that it is in the public interest for them to be investigated now rather than at the conclusion of the Detainee Inquiry."
The two Libyan victims are known to be Sami al-Saadi and Abdul Hakim Belhaj, who is now a senior military commander in the new Libyan Government. Belhaj, 45, was living in exile in Beijing when he was arrested with his wife in 2004, en route to Britain where they were trying to seek asylum. He was held for six years in prisons in Libya.
A source close to Belhaj, who is suing the British Government, told the Independent: "British police are welcome to carry out their investigations here ... But Abdul Hakim will continue with his legal action, which he only began after failing to get an apology from the British Government."
Straw said: "The position of successive foreign secretaries, including me, is that we were opposed to unlawful rendition, opposed to torture or similar methods, and not only did we not agree with it, we were not complicit in it."
Independent