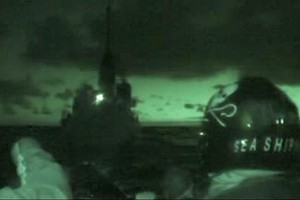 Three anti-whaling protesters who boarded a Japanese security ship at the weekend will be released without charge but have been rebuked by the Prime Minister, who labelled their "hazardous" action unacceptable.
Julia Gillard says the customs vessel Ocean Protector is on its way to pick up West Australians Geoffrey Tuxworth, 47, Simon Peterffy, 44, and Glen Pendlebury, 27, from the Shonan Maru 2, which is outside Australian waters.
Depending on the weather, it could take "some days" for the three Forest Rescue Australia activists to be collected and returned to Australian soil.
Greens leader Bob Brown believes the protesters are "heroes for the whales" but that view is not shared by Gillard.
"Activity of the nature undertaken by these three Australians is unacceptable and will ultimately be costly to the Australian taxpayer," she said through a spokesman yesterday.
"No one should assume that because an agreement has been reached with the Japanese Government in this instance that individuals will not be charged and convicted in the future."
Gillard said such "hazardous protest action" was not the way to put an end to whaling.
Rather, the Labor Government says the best way to stop the hunting of whales in the Southern Ocean is through its legal action against Japan in the International Court of Justice.
But the Sea Shepherd Conservation Society argues that court action could take years and even then Japan could ignore any ruling against its annual whaling programme.
Japanese news reports suggest Tokyo was not interested in taking Tuxworth, of Perth, Peterffy, of Bunbury, and Pendlebury, of Fremantle, to court because they did not injure crew members when they illegally boarded the Shonan Maru 2.
After boarding the ship off Bunbury on Saturday night, the Australians demanded to be taken back to shore, to try to disrupt the security ship's trailing of the Sea Shepherd anti-whaling ship the Steve Irwin. But the Shonan Maru 2 remained at sea, triggering diplomatic talks.
Attorney-General Nicola Roxon is pleased the three were released without charge but also issued a warning to people planning similar protests.
"We can't be confident that that will happen next time if people take action [and] take the law into their own hands," the Attorney-General told the Nine Network yesterday.
Forest Rescue Australia believes the protest was worthwhile and that the men would do it again.
"We don't write the rules of the game," spokesman Rowan Davidson told ABC Radio yesterday. "We just play it hard like they do and we will use whatever means we can."
Davidson said creating an international diplomatic incident was acceptable so long as it was non-violent.
"Anything that is going to disrupt the indiscriminate slaughter of whales [is acceptable]."
Sea Shepherd captain Paul Watson denied the stunt had backfired in terms of public support.
"We are down there to protect the whales; we are not down there to make everybody happy," he told Macquarie Radio.
"If the Australian Government would do their job and fulfil their election promises these things wouldn't be happening."
- AAP