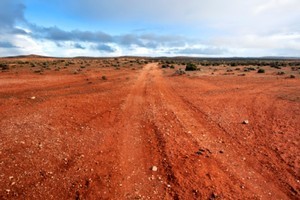 Police were yesterday preparing to interview a convicted child sex offender from a remote Aboriginal community who took an eight-year-old girl on a kangaroo hunting trip that ended in her death.
The pair, who went missing in the Western Australian desert after setting out last Saturday from Tjirrkali community, about 700km northeast of Kalgoorlie, were found three days later following an air and ground search. The little girl, Danielle Lane, was severely dehydrated, and died soon afterwards despite efforts to revive her.
Augustine Miller, 38, who was jailed in 2006 for having sex with a 14- year-old girl, is the partner of Tania Little, who had been looking after Danielle. Little was convicted in 2008 of snatching a three-day-old baby from a Perth maternity hospital, but received a suspended sentence. Danielle's main carer, her grandmother, died two years ago.
Police are treating the death as suspicious, which they said was standard procedure, and as of yesterday had yet to interview Miller, who has been recovering in hospital from dehydration and sun exposure.
Inspector Bill Munnee said police were aware of his criminal history and would investigate whether Danielle had been mistreated.
News of the little girl's death sparked grief and anger in Tjirrkali and the larger Warburton community, 180km away. A police plane carrying Miller was pelted with rocks by about 100 angry locals when it arrived on Tuesday, and he was flown instead to hospital in Kalgoorlie.
He and Danielle set off into the inhospitable desert country in a two-wheel-drive Holden Commodore, with meagre supplies of food, water and fuel. Tjirrkali elders raised the alarm after they had failed to return by Sunday, and a major search operation was launched by rescue teams from Western Australia, the Northern Territory and South Australia.
The Commodore was spotted from a police aircraft 25km from Tjirrkali on Tuesday afternoon. Police and a nurse tried for more than an hour to resuscitate the girl.
Miller, who was released from jail last year, has been charged with several offences relating to unlicensed firearms.
Damien McLean, the president of Ngaanyatjarraku shire, said the community was stunned and distressed. "It could be anywhere between a terrible misadventure and a ghastly crime," he said.