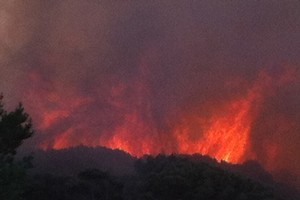 A heatwave has descended on Australia with extreme fire conditions declared in Victoria and South Australia.
In southwestern Victoria temperatures have soared into the 40s.
The Country Fire Authority warned conditions were tinder dry yesterday because of hot northerly winds.
A total fire ban was issued across most of the state, including in suburban Melbourne where the mercury was forecast to top 40C.
The Weather Bureau was expecting temperatures to stay in the high 30s in most Victorian communities, but to reach a peak of 43C in the state's southwestern district.
The extreme fire danger warning in southwestern Victoria includes the southern Grampians and the communities of Warrnambool and Apollo Bay, among others. A severe fire warning applies to the central district and Victoria's northwestern regions.
The rest of the state is rated for a very high or high fire danger.
The bulk of South Australia is also facing severe fire conditions, with the state sweltering as the mercury tops 40C.
The Country Fire Service ordered a total fire ban in 13 of the state's 15 districts, including the area surrounding the city of Adelaide and in Mount Gambier and Naracoorte.
- AAP