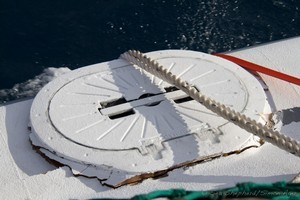 Anti-whaling activists are racing to the aid of one of their boats damaged by a giant wave in the Southern Ocean.
Sea Shepherd Conservation Society president Paul Watson said one of its ships, the Brigitte Bardot, was stranded 2400km off the southwest coast of Australia after cracking its hull in 6m swells.
The Brigitte Bardot is a 35m, $4 million boat which once held the round-the-world record of just under 75 days.
"We've been down here before without any problems, but this was just a freak wave," he said. "The crew are secure and the captain is quite confident it will be okay."
But the weather continued to be rough in the Southern Ocean and the cracks in the Brigitte Bardot had been widening, he said.
He was in the Steve Irwin, the anti-whaling expedition's flagship, which was expected to reach the Brigitte Bardot this morning.
The society launched three ships to chase the whaling vessel Nisshin Maru. Mr Watson said the whaling ship had been diverted from its intended destination by the activists, but its security boat, the Shonan Maru, was now tailing the Steve Irwin.
"They haven't even reached the area for whaling," he said. "They had to get away from us.
"This is disappointing but these are hostile seas and we have always been prepared for situations like this," said Mr Watson. "Right now the safety of my crew on the Brigitte Bardot is our priority and we intend to reach the crew and then do what we can to save our ship."
He said the campaign had been a success before it even started because the Japanese delayed their trip, costing them millions of dollars.
The Brigitte Bardot would be towed to Fremantle, in Western Australia, and was likely to be repaired, he said.

Reports say the whalers plan to catch more than 900 minke whales and 50 fin whales this summer.
Foreign Affairs Minister Murray McCully this month issued a joint statement with Australia, the Netherlands and the United States opposing the catch.
"[We] are disappointed about the recent departure of the Japanese whaling fleet for the Southern Ocean. In this context we wish to emphasise that lethal techniques are not required in modern whale conservation and management."