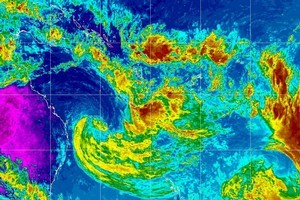 A big swell which closed up to half of New South Wales' beaches yesterday looks set to continue today.
Lifeguards were on high alert as 2m waves, whipped up by the remnants of ex-tropical cyclone Fina, pounded beaches and created hazardous conditions for thousands of holiday sun-seekers.
"A good proportion of them are closed," said Surf Life Saving NSW lifesaving manager Dean Storey.
Many of Sydney's northern beaches, including Narrabeen, Dee Why and South Curl Curl, were closed. In the eastern suburbs, Bronte and South Maroubra beaches were also shut.
Storey said there were large crowds on the sand at Sydney's northern beaches but most people were heeding warnings to stay out of the water.
Beach closures are forecast to continue today.
A tropical cyclone over the Northern Territory appears to have weakened, but residents in remote areas east of Darwin have lost power and experienced minor flooding.
Darwinians were spared the worst of Tropical Cyclone Grant yesterday, as it moved inland in a southeasterly direction towards Arnhem Land.
The cyclone was classed as a category two on Christmas night but was later downgraded to category one by the weather bureau, leading to the cancellation of a cyclone warning for the territory capital.
People living in Kakadu National Park have not been so lucky, with heavy rain causing minor flooding in the tourist and mining town of Jabiru.
To the north, torrential downpours have cut off Croker Island residents from their airstrip and cut power supplies, while Goulburn Island's sewerage system is in need of repairs.
Superintendent Colin Smith of the territory's police said emergency crews were more concerned about localised flooding as the cyclone moved towards Queensland.
"There's been some localised flooding in Jabiru in the last few hours but there's no need to conduct any evacuations at this stage."
In Melbourne, hundreds of emergency workers mopped up the mess wrought by wild weather that ripped through the city on Christmas Day.
Storms brought hailstones, torrential rain, flash flooding and even a tornado, prompting 3000 distress calls. Hail punched holes in roofs, skylights and windows.
- AAP