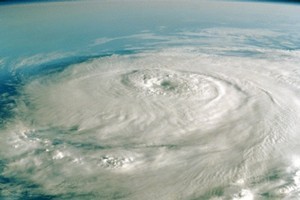 Gusts of up to 140km/h are expected to hit Australia's Top End, as Tropical Cyclone Grant lashes the coast.
The cyclone, which slowly intensified on last night, is expected to move south across the Cobourg Peninsula and into the eastern Van Diemen Gulf early today.
The storm is travelling at about 8km/h and carrying winds of around 140km/h at its centre.
If it maintains its southward course, it is predicted to cross the coast again east of Point Stuart, at least 80km east of Darwin, around lunchtime today.
Darwin residents may experience gale force winds today as the storm passes through, the Bureau of Meteorology said.
Localised flooding over the northern Darwin-Daly, Arnhem and northern Roper-McArthur Districts is also expected.
People living west of Maningrida to the Tiwi islands, including Cape Don, Croker Island and Goulburn Island, were told to take shelter on Sunday.
Forecasters had previously thought the storm would be downgraded to a category 1 as it crossed over land, but they are no longer expecting that.
"It's crossing a fairly narrow part of the Coburn Peninsula tonight so it won't be enough to drop it back to a Category 1 on Sunday,'' said Chris Davies, senior forecaster with the Bureau of Meteorology in Darwin.
"It probably won't have as much interaction with the land as we were originally expecting so it will hold itself together a bit better.''
- AAP