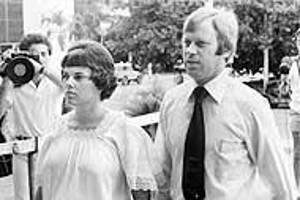 New Zealand-born Michael Chamberlain has welcomed the announcement that a new inquest will be held into the disappearance of his baby daughter Azaria in central Australia more than three decades ago.
The Northern Territory government has confirmed Coroner Elizabeth Morris will conduct the inquest, which will start on February 24 and is likely to be the final legal chapter in the case.
Mr Chamberlain told ABC Radio yesterday that the decision to hold a new inquest was a milestone.
"I'm really just pleasantly surprised about this and I'm incredibly gratified," he said.
"It's been 31 years now and I just hope, well I'm sure this time it will be the ultimate verdict which we've been looking for, for this length of time."
Azaria was nine weeks' old when she disappeared from her parents' tent at Uluru (Ayers Rock) in August 1980, sparking court cases that saw her mother Lindy Chamberlain sentenced to life in jail in 1982.
Mr Chamberlain was given a suspended sentence after being found guilty of being an accessory after the fact.
Mrs Chamberlain, now Lindy Chamberlain-Creighton after remarrying, has always maintained that she saw a dingo leaving her tent on the night Azaria went missing.
The claims were greeted sceptically by many Australians at the time of the disappearance.
After Azaria's matinee jacket was found in 1986 the case was reopened and a royal commission in 1987 exonerated both parents.
In 1988 the NT Court of Criminal Appeals overturned all convictions against the couple.
Despite the charges against the Chamberlains being cleared, a coronial inquest into the disappearance of Azaria in 1995 delivered an open verdict.
Northern Territory barrister John Lawrence, SC, said the inquest would have evidence to consider not known at the time the baby disappeared in 1980.
"What we have now is several instances, tragically, of dingoes attacking people and in one instance killing a child," Mr Lawrence said.
Mr Lawrence was part of the crown legal team during the royal commission.
"The defence [in the murder trial] called various experts to say that damage to the same clothing could have been caused by canine teeth," Mr Lawrence said.
"There was no evidence then of dingoes having attacked other people.
"Now there is."
A spokesman for Northern Territory Attorney-General Daniel Knight said it would be inappropriate for Mr Knight to comment on the latest twist in the saga as the matter was before the coroner.
TIMELINE
* Aug 17, 1980 - Azaria disappears from her parents' tent at Ayers Rock.
* Feb 1981 - An inquest finds a dingo had taken Azaria.
* Feb 1982 - A second inquest concludes the baby had not been taken by a dingo but that Lindy Chamberlain should go on trial for murder.
* Oct 1982 - Lindy found guilty of murder and sentenced to life imprisonment. Michael found guilty of being an accessory after the fact and given a suspended sentence.
* Jun 1987 - The royal commission exonerates the Chamberlains whose convictions are quashed.
* Dec 1995 - A third coroner's inquest returns an open verdict.
* Feb 2012 - New inquest to begin.
- AAP