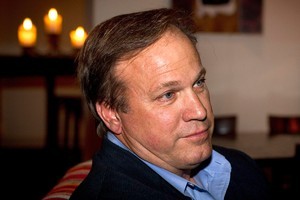 Sperm donor Bill Johnson is back in the United States after disclosing his secret life.
The Alabama-based conservative Christian campaigned against gay marriage before arriving in Christchurch earlier this year where he took a job as long-term recovery manager for Ceres Environmental's local affiliate.
Last weekend, the Herald on Sunday reported Johnson had donated sperm to women in the city without the knowledge of his wife, former beauty queen Kathy.
Three women had become pregnant; six others wanted to.
Ceres Environmental president Troy Garrett, speaking from the company's Minnesota headquarters, said he was aware of the sperm donation allegations.
"We are certainly investigating the allegations. But I do want to point out there is nothing that appears to be illegal about what he did, if in fact the allegations are true. I understand he gave some confirmation to it - but we are investigating the situation."
Garrett refused to confirm Johnson's employment status, describing the Alabama man's situation as sensitive.
David Lynch, a spokesman for Ceres New Zealand, said Johnson had flown back to the US to be with his family.
He would not confirm Johnson's current employment status, saying only that the company was "supporting" Johnson. Asked to explain, Lynch said: "It simply means they recognise this is a private matter and as such they obviously supported Bill in his return to the States to respond to that ...
"He was planning on returning to the States anyway for the Christmas holidays."
Meanwhile, one of the sperm donation websites said it had shut down Johnson's profile.
Since the Herald on Sunday investigation was published last weekend, Bill Johnson's story has become headline news in the United States and Britain.
Johnson's wife, Kathy, said last week that the secret sperm donations were the "utmost betrayal".