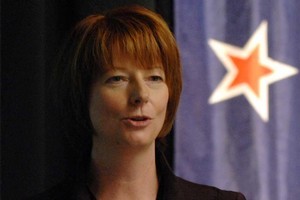 Called a "whore" and her partner labelled gay, encouraged by rock singer Elton John, handed competing petitions from more than 200,000 divided Australians, and facing bitter splits within her own ranks, Prime Minister Julia Gillard will today struggle to contain a Labor push for gay marriage.
Gillard appears likely to lose her stand against same-sex marriages in the national party conference, and could yet fail to achieve a face-saving compromise that would allow MPs a conscience vote in Parliament.
Given opposition within Labor and Gillard's wafer-thin majority, changes to the federal Marriage Act probably would not survive a conscience vote.
Supporters of gay marriages are demanding the conference votes for a new, non-negotiable policy that would drive beyond the civil unions now allowed in Queensland, Tasmania, Victoria and the Australian Capital Territory.
Queensland Premier Anna Bligh, who pushed the civil unions law through state Parliament this week, will be a powerful advocate for gay marriage today.
The debate is dominating a conference that will have other contentious issues on its agenda, including the sale of uranium to India, at present contrary to Labor policy because New Delhi has not signed the Nuclear Non-Proliferation Treaty.
For Gillard same-sex marriages have become a serious political challenge that is being seen by many commentators as a test of her authority.
During last year's election campaign she stood by the present statutory definition of marriage as a union between a man and a woman, a position she has since heartily defended.
But her stance has been undermined by prominent gay advocates within the party and Government, including Finance Minister Penny Wong, who is having a baby with her lesbian partner.
With the Left clamouring for change, Gillard's hopes for the conscience compromise rest with the Right, which declared it would vote as a bloc but which reports yesterday said was beginning to splinter.
It seems likely gay marriage will be supported by the conference, a policy that would be binding on MPs if enough members of the Right defected on the conscience vote.
The debate has spilled outside the conference with equal fury.
Yesterday the Daily Telegraph reported that two broadcasters on the state-run ABC radio Triple J station had attacked Gillard and her partner Tim Mathieson on Twitter, one saying of the Prime Minister: "Boo you whore."
The other, Brendan McLean, wrote: "Just because you don't want to marry your gay boyfriend doesn't mean I shouldn't be able to marry mine."
In Sydney, Sir Elton John told a World Aids Day rally: "People have a right to live with dignity, we're all treated equal, and it's about time Australians got the same-sex marriage together as well," he said.
Gay and Christian groups squared off against each other, rival petitions landed at the conference, and same-sex advocates presented Galaxy polling that they claimed showed Labor would pick up 1.2 million voters if it changed the Marriage Act.