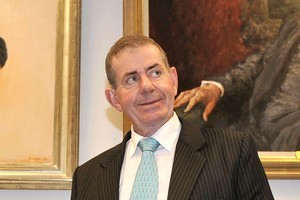 Australian politics has taken a new turn with Slippery Pete at the wheel in Parliament House.
Nicknamed for his ability to survive almost impossible odds, former National-cum-Liberal-cum independent MP Peter Slipper has already stretched the punning capacity of the nation's headline writers.
And even when the new Speaker of the House of Representatives has not suffered plays on his name, the news has not been good.
Yesterday the dailies headlined him as "King Rat" in a "House of Ill-Repute", installed as Speaker by a "dirty deal" to shore up Prime Minister Julia Gillard's shaky minority Government.
The sudden and unexpected decision by the former Speaker, Labor MP Harry Jenkins, to step down has dramatically increased Gillard's prospects of surviving a full term.
Because Jenkins has returned to the Labor benches and the Coalition has lost Slipper - who has resigned from the Liberals - the Government now has 72 votes in hand, requiring the support of only three of the six other independents to win a 75-74 majority.
Gillard can now weather the loss of a seat - if, for example, Labor MP Craig Thompson was convicted of alleged misdeeds now under police investigation - and could survive what would previously have been the fatal withdrawal of support by Tasmanian independent Andrew Wilkie if she failed to deliver promised legislation.
Opposition leader Tony Abbott, meanwhile, has seen Gillard's neck slip from his grasp.
The Coalition now has only 71 votes, and would need five of the six independents to defeat the Government. Slipper's defection has also undermined Abbott's leadership at a time when rumblings have again emerged from his backbench, if for no other reason than his failure to exert authority over efforts by the Queensland Liberal National Party to eject Slipper.
Slipper has long been unpopular with his party and his electorate, where he is likely to be successfully challenged for preselection for the next election by former Liberal minister Mal Brough.
He has been repeatedly hammered by his local newspaper, the Sunshine Coast Daily, and last September a fellow - but hostile - Liberal MP presented a petition from Slipper's constituents demanding an inquiry into his lavish use of taxpayers' money.
The Finance Department is considering an audit.
Slipper has already had to pay back more than A$20,000 ($26,200) in improperly-claimed expenses, and his spending on travel and other entitlements - including a six-week, A$25,000 European tour with his wife last March - has regularly astounded observers.
Slipper is also a serial turncoat: in Parliament initially as a National MP, he helped wreck John Howard's first tilt at power by backing the late Queensland Premier Joh Bjelke-Petersen's doomed bid at federal politics; he later dumped the Nationals for the Liberals; and now he has poleaxed Abbott and become an independent.
Slipper tales are legion, with further revelations almost certain to emerge from infuriated Liberal ranks.
Newspapers have been full of anecdotes: Slipper floored by a fellow early-morning patron at a Canberra bar and ejected by bouncers; refused entry to a plane by Qantas cabin staff; summoning help by the panic button when he couldn't find his way out of a disabled toilet with a sliding - rather than opening - door.
Pictures of him soundly sleeping during Indonesian President Susilo Bambang Yudhoyono's landmark address to a joint sitting of Parliament are back in circulation.
Slipper has acknowledged he isn't perfect, telling Parliament: "I've made some mistakes, as some of the colourful stories about me reveal."
Abbott, though indignant and angry, has one consoling thought from the defection: Slipper is now Gillard's problem, not his.