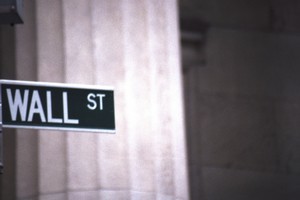 US stocks have slipped backward as the promise of new Greek and Italian Governments failed to quell market contagion or point the way to a comprehensive eurozone crisis deal.
Lack of progress toward a deficit reduction deal by a powerful US Congressional panel also dimmed the view ahead for traders.
The Dow Jones Industrial Index finished the week down 2.9 per cent from the previous Friday, at 11,796.16.
But the S&P 500 and the Nasdaq Composite gave up more ground Friday with the S&P, at 1215.65, ending down 3.8 per cent for the week and the Nasdaq, at 2572.50, 4 per cent lower.
The US markets had to shrug off some reasonably positive data during the week indicating a slower pace of job layoffs, strong consumer spending, greater overall business optimism and slowing inflation.
Instead they bowed to the clouds of political stalemates on both sides of the Atlantic:
* In Europe, EU leaders and the European Central Bank wrestled over how to boost rescue funds to halt the contagion spreading through sovereign bond markets that potentially threaten the entire eurozone;
* In the United States, the Congressional "supercommittee" tasked to slice US$1.2 trillion ($1.5 trillion) from the US deficit over the next 10 years by November 23 appeared deadlocked, with the possible result that the Government will be automatically forced next year to crunch overall spending.
Politics aside, while US domestic indicators have improved, outside the country "there are signs that the fourth quarter may not be as rosy", according to Wells Fargo Securities.
"Industrial production has weakened in Europe and Russia, while unemployment has jumped in the United Kingdom. A strong yen could hinder Japanese exports.
"It's been a bad week because worries and concerns about Europe have overwhelmed good economic numbers in the US," said Hugh Johnson of Hugh Johnson Advisers.
"Markets don't want austerity for countries that have a 15 per cent unemployment rate. The message is: they need growth policy," he said.
With six weeks left in the year, markets will be focused on US consumer spending, which could determine if they end the year higher or lower. The peak US spending period begins with Thanksgiving on Thursday up to Christmas/ New Year.
In what will be a holiday-shortened week, the main event is the annual Black Friday shopping frenzy, which according to sales announcements by big chains will actually begin on Thanksgiving day.
- AAP