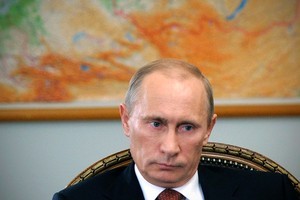 In what is sure to be seen as a bid to rebuild the Soviet Union, Vladimir Putin has floated the idea of a "Eurasion Union".
Putin, who recently announced he will be running for president, said the union - made up of former Soviet states - would be similar to the European Union.
Russia, Belarus and Kazakhstan were already going ahead with economic integration and will introduce unified market rules and regulations at the start of 2012, according to the Russian Prime Minister.
But Putin quickly deflected suggestions the union would be an attempt to rebuild the USSR.
"There is no talk about rebuilding the USSR in one way or another," he told a Russian newspaper.
"It would be naive to try to restore or copy something that belongs to the past, but a close integration based on new values and economic and political foundation is a demand of the present time."
Putin said the Eurasion Union would instead "build on the experience of the European Union and other regional coalitions".
He believes this would "create real conditions to change the geopolitical and geoeconomic configuration of the entire continent and have an undoubtedly positive global effect".
Although Russia has called for more co-operation with ex-Soviet states in the past, many of these countries have remained suspicious of Moscow's intentions.