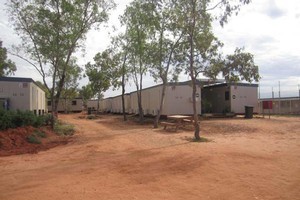 Australia's human rights watchdog has condemned conditions at the nation's biggest mainland refugee detention centre and attacked the long-standing policy of mandatory detention.
In a disturbing report on the Curtin detention centre, near Derby in the remote north of Western Australia, the Human Rights Commission also condemns attempts to send asylum seekers to other countries.
Both major political parties support the overseas processing of asylum seekers to deny them access to Australia's court system, but the policy is in disarray since the High Court's ban on the Government's proposed refugee swap with Malaysia.
The ruling has been held to apply also to options in Nauru and Manus Island in Papua New Guinea.
The Curtin centre, which at the time of a commission inspection in May held more than 1400 people, has rekindled concerns that have plagued successive governments since mandatory detention was imposed two decades ago.
More than three-quarters of its detainees had been held for longer than six months, and more than one-third had been detained for longer than a year.
"Detaining people, many of whom have fled experiences of torture or trauma, for long and uncertain periods in a remote area with limited access to specialist health and mental health services has the potential to be extremely harmful," commission president Catherine Branson said.
She said detainees had told the commission of their difficulties coping with the isolation caused by being held in such a remote location.
"They are also witnessing the alarming mental health breakdown of fellow detainees including self-harm incidents and an apparent suicide earlier this year, and some of them say they fear they will go mad if they are held in detention much longer."
The commission has urged reforms of mandatory and indefinite immigration detention for more than a decade, warning it breaches Australia's international human rights obligations.
Its report said that concerns had escalated in the past two years as the number of people in detention had risen, people had been detained for longer periods, incidents of self-harm and suicide had increased and riots, protests and hunger strikes had become common.
The report said Curtin could not meet the needs of its detainees.
Curtin was placed in a remote area with a harsh physical environment, the infrastructure - including intrusive security measures and crowded dormitories - was "inappropriate", and there was limited access to communication facilities and recreational and educational activities.
Detainees had also reported claims of "inappropriate treatment" by some detention staff.
The report said most other countries did not find it necessary to use mandatory detention, and Australia received few asylum seekers by international standards.
"Further, there is no evidence that mandatory detention deters irregular arrivals, and during almost 20 years of mandatory detention in Australia, the human and financial costs have been enormous," the report said.
The commission also warned that transferring asylum seekers to third countries could breach Australia's obligations under United Nations refugee and human rights treaties.