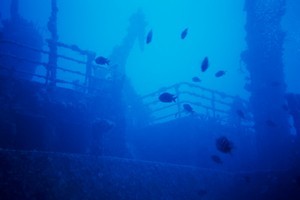 The largest consignment of precious metal found in the sea - 200 tonnes of silver worth £148m - has been discovered in the wreck of a British cargo ship sunk by a German U-boat during the Second World War .
Odyssey Marine, an American underwater archaeology and salvage firm, will announce the discovery today with its plans to recover the bullion as part of a British government contract, under which it will retain 80 per cent of the cargo's value.
The Gairsoppa, an ageing steamer belonging to the British India Steam Navigation Company, was ordered into the Merchant Navy fleet at the outbreak of war.
It was sunk by a single torpedo in February 1941, after hitting heavy weather in the Atlantic and trying to reach safety in the Irish Republic.
Some of the 85-strong crew are thought to have made it to lifeboats as they came under machine-gun fire from the submarine. But after drifting for 13 days and for more than 300 miles only one sailor - Second Officer Richard Ayres - reached the Cornish coast alive.
The well-preserved wreck of the 412ft steel-hulled ship was found by Odyssey this summer, nearly 4,700 metres below the inhospitable waters of the North Atlantic.
The vessel had settled on the seabed in a fully upright position, with the cargo holds open and the bullion accessible via the hatches, using remote-controlled robotic submarines.
The Gairsoppa was carrying seven million ounces - about 200 tonnes - of silver to help to fund the war effort, sailing from Calcutta to Liverpool, via Freetown in Sierra Leone - an important staging point for the convoys.
Under a contract with the Department of Transport, which inherited responsibility for the ship, Odyssey will be permitted to retain 80 per cent of the value of the silver in return for taking on the commercial risk and expense of locating the Gairsoppa. If it brings all the bullion to the surface when the planned recovery begins next summer, it will make the company about £118m.
Andrew Craig, the senior project manager, said: "We've accomplished the first phase - the location and identification of the target shipwreck - and now we're hard at work planning for the recovery phase."
The bullion was a mixture of privately owned silver insured by the British Government and state-owned coins and ingots. Researchers working for Odyssey have used the Gairsoppa's cargo manifest and documents from Lloyd's War Losses Register, which detail an insurance payout, to establish the amount of silver on board.
Odyssey is currently locked in a court battle with Spain over the ownership of 500,000 silver coins recovered close to the remains of a vessel claimed by Madrid and has previously attracted criticism from archaeologists who argue that historical ship wrecks should be left untouched.
The company insists its work is done to stringent archaeological standards and helps to preserve knowledge that would otherwise be lost.