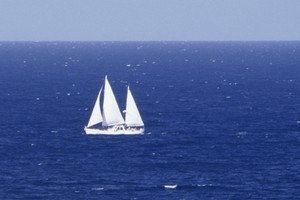 A 10m yacht with a New Zealander on board is missing in the Atlantic Ocean, and authorities are concerned it may have been caught in Hurricane Katia.
The white-coloured sloop Golden Eagle is six days overdue at port in West Cork, southern Ireland, after leaving from Bermuda on August 21.
The Norwegian-registered boat has a 60-year-old, Caribbean-based New Zealander and a 69-year-old Norwegian on board, who have not made contact with authorities since leaving Bermuda.
The Norwegian man's family told maritime officials in southern Norway on Saturday that the boat had been due in Ireland on September 15.
The Irish and Bermuda coast guards were alerted to the missing vessel, and began a search operation at the weekend.
Ireland Coast Guard search and rescue co-ordinator Shane Dillon said the boat had an emergency position-indicating radio beacon (EPIRB) on board, but this had not been activated.
The beacon was activated as soon as it came into contact with water and sent a signal via satellite to the nearest coast guard.
Bermuda chief maritime operations controller Denis Rowe told Irish media that the last contact that Bermuda had with the vessel was through VHF radio as it left the region's waters. VHF radio had a range of around 70km.
"An EPIRB is a great piece of equipment to have on a boat and the fact that it has not been activated so far is a good sign," said Mr Rowe.
He added that yachts sailing across the Atlantic were often delayed and diverted to alternative ports.
The Irish Times reported that authorities were concerned that the boat may have been caught in the tail end of Hurricane Katia, a major storm which generated 132km/h winds in the Atlantic in early September.
The hurricane, at one point 800km wide, formed near the east coast of the United States and moved northeast across the Atlantic, eventually causing huge surf and inland flooding in Britain.
Mr Dillon said the Irish Air Force sent out aircraft on Tuesday, and four Irish Navy ships are looking for the Golden Eagle.
Freighters and cruise ships crossing the Atlantic and aircraft flying between America and Europe had also been requested to keep an eye out for the vessel.
The New Zealander on the Golden Eagle was believed to be an experienced sailor and an owner of several vessels based in St Thomas in the Virgin Islands.
Mr Dillon said there was some "slight confusion" about the boat's proposed direction, and its crew might have planned to stop at Azores, around 1500km west of Portugal.
The boat had not been reported at any port in the Azores.
MISSING AT SEA
* Yacht left Bermuda on August 21 and was due to arrive in Ireland on September 15.
* The journey would have been at least 5000km
* Search authorities fear the yacht may have hit Hurricane Katia, which at one point was 800km across.
* The yacht's rescue beacon has not been activated.
- Additional reporting: APNZ