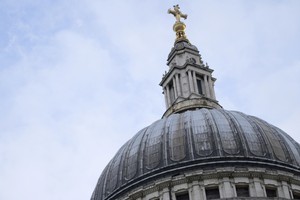 The controversy over the alleged serial raping of a senior Anglican cleric during his years as a trainee Catholic priest has claimed the head of the nation's new mental health commission.
Monsignor David Cappo has pulled out of the job he was to have started in January following claims that he failed to properly investigate the allegations made by Archbishop John Hepworth, who had left the Church after the abuse to become an Anglican.
He is now Archbishop of the Traditional Anglican Communion, an international movement that split from the authority of the Archbishop of Canterbury on issues ranging from liturgical revisions to homosexuality and the ordination of women, and which is now seeking ties with the papacy.
Cappo was accused of stalling an investigation during an extraordinary and controversial statement to the Senate by independent Senator Nick Xenophon, in which he also named the three priests alleged to have raped the archbishop over a 12-year period beginning at age 15.
The Melbourne Church has apologised for the abuse and has given financial compensation.
Two of the alleged rapists are dead, and the third was named as Monsignor Ian Dempsey, now the parish priest at Brighton in Adelaide.
Dempsey was previously Vicar-General of the Archdiocese of Adelaide and had been director-general of the Navy's chaplains. He is also an Officer of the Order of Australia.
Dempsey has denied the allegations and the Archdiocese of Adelaide has rejected Xenophon's claims that an investigation had been stalled.
Xenophon also named Cappo as one of two senior Catholic clerics who had been provided with details of Hepworth's allegations, and said the Government should investigate his failure to act before confirming his position with the mental health commission.
Cappo had recently resigned as South Australia's social inclusion minister to take up his new post, and was deputy chair of the Australian Social Inclusion Board. He has now withdrawn from his appointment.
Cappo said he acted with "proper and due diligence" but said the controversy could distract from his new federal job.
"We have worked so hard to put mental health on the national agenda and I do not want, in any way, to have this progress jeopardised," he said.
Xenophon, now at the centre of a row over his use of parliamentary privilege to name Dempsey, said he had asked for a review of Cappo's appointment, not his resignation.
But he said there should still be a "fair and independent assessment" of the Adelaide Archdiocese's handling of the allegations and the part Cappo played in that.