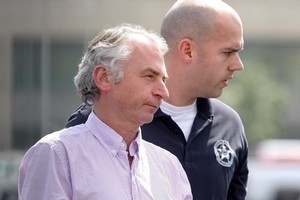 The Sydney businessman alleged to have strapped a fake bomb around the neck of 18-year-old Mosman student Madelaine Pulver is expected to return to Australia soon after waiving extradition proceedings in the United States.
Paul Douglas Peters, 50, had said through his lawyer that he intended pleading not guilty to charges of aggravated break and enter with intent to commit a serious indictable offence, demanding property by force and with intent to steal, and kidnapping.
He has been in a Kentucky jail awaiting an extradition hearing set for October 14, but US Attorney's office spokeswoman Stephanie Collins said he would not contest formal extradition and would return to Australia as soon as it could be arranged.
This could mean Peters will be back in Sydney within a week, provided his decision is approved by an American judge.
The 10-hour ordeal faced by Madelaine Pulver grabbed international attention after police responded to a panicked phone call from the home of the wealthy family on August 3.
Peters is alleged to have confronted the terrified teenager wearing a ski mask and carrying a bag and baseball bat. Documents presented to the Louisville District Court after his arrest allege Peters strapped a device around her neck with a note warning that it was a booby-trapped bomb.
He is alleged to have warned Pulver not to call police, leaving an extortion note instructing the Pulver family to confirm their agreement through an email address named for Dirk Struan, the fictional 19th century Hong Kong mogul in James Clavell's 1960s novel Tai-Pan.
The address and a USB stick left with the "bomb" led to Peters' arrest.
Police tracked the address from Chicago airport to its use by a man matching Pulver's attacker at a library and video store near Peters' home at Copacabana, north of Sydney.
The court documents alleged that CCTV footage also showed the man driving a Range Rover similar to a vehicle owned by Peters.
Mastercard records further showed that Peters had bought a USB stick identical to that used in the extortion bid - which contained deleted documents similar to the note left with Pulver - and that he had also bought a similar baseball bat.
Peters, the son of a wealthy Cathay Pacific pilot, was traced to the home of his former wife at La Grange, just outside Louisville and arrested.
Peters had worked for accountancy firm Arthur Andersen and as managing director of a finance company before taking over Sydney-based global financier Allco's Malaysian branch before its collapse in the global financial crisis.