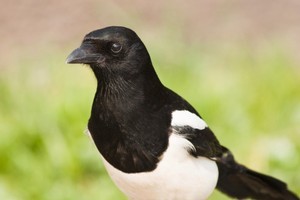 A rogue magpie that swooped on a schoolgirl, gouging a small hole in her head and drawing blood, has been given a reprieve after a public outcry.
The New South Wales National Parks and Wildlife Service (NPWS) authorised police to shoot the bird after it attacked Samantha Croft, 13, as she walked home from school in Tweed Heads, in northern NSW, last week.
But the execution plan was condemned, with even the Federal Finance Minister, Penny Wong, speaking out against it, and this week police stood down their sharpshooter.
The service then cancelled the magpie's death warrant, saying that as a result of the publicity locals were more likely to avoid its nesting area.
Some magpies become aggressive during the six-week breeding season, swooping on and sometimes attacking people and animals. According to an ecologist quoted in the Courier Mail yesterday, serious injuries are rare but "at least one eye is lost every year".
The decision to spare the Tweeds Head bird, at least for the time being, was criticised by the family of a 12-year-old boy, Ivan Sthrowski-Wood, who was killed after running into the path of a car while fleeing a swooping magpie in the Queensland city of Ipswich last year.
Samantha's father, George, questioned whether police and the NPWS were "just ... bowing to negative publicity and making policy on the run".
But Lawrence Orel, an NPWS spokesman, said it was "a win-win situation for the magpie and the community".
He said: "No one wants to see an iconic bird destroyed. If anything, this case shows that the community really values its birds."
Senator Wong told ABC radio last week that despite being swooped on by magpies as a child in the Adelaide Hills, "I just don't want to think about killing a creature."