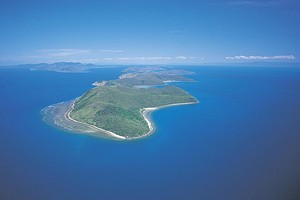 Searchers have found the body of a man mauled by sharks off a Queensland island 13 hours after he disappeared while trying to recover a boat.
The 48-year-old Melbourne builder had been refurbishing buildings hit by Cyclone Yasi in the Palm Island group, about 65km northeast of Townsville, and was taking a weekend break when tragedy struck.
The name of the man, known as "Rooster", has not been released by police at the request of relatives.
It is not known whether he was killed by sharks or if he died from other causes. A police spokesman said yesterday they were waiting for the results of a post-mortem examination.
The man had been working on nearby Orpheus Island and was relaxing with three friends on Fantome Island when they noticed their boat had broken its moorings about 7.30pm on Sunday. The friends swam after the boat, but "Rooster" disappeared.
A search and rescue operation involving boats and five helicopters lasted for eight hours before the body was spotted yesterday morning.
Sharks had been seen in the area and the body had been attacked.
The man left a wife and stepson.
A friend on Palm Island told the Townsville Bulletin "Rooster" and her husband had become close friends, and that the dead man was a "loveable bloke" who had a heart of gold and was always willing to help others.
"Our house was damaged during the cyclone, and Rooster had even offered to help out once the contract on Orpheus finished in October," she said.
"He was willing to come over to Palm and help us out without even charging us a cent, that's just the type of guy he was.
"It's hard to imagine how a day that started out so great could end up so tragic."