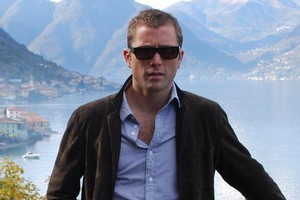 The Kiwi at the centre of a fiery love triangle has been freed from a Dubai prison cell.
Toby Carroll, a 32-year-old financier, was sentenced to two months in prison for having sex outside of marriage with two women in the Muslim emirate.
The former Aucklander called police after his Brazilian ex-girlfriend, Priscilla Ferreira, went berserk in his apartment with a knife when she found Carroll in bed with British woman Danielle Spencer, a former stripper.
This week, Carroll completed his prison term and was deported to Britain - and his lawyer claimed he would reunite with Spencer.
Carroll and Ferreira were sentenced to two months' imprisonment. Spencer, however, served only one month, allowing her to return to Britain and sell her story to the tabloids.
Carroll had used his white Porsche 911 to whisk her off on a string of dates before inviting her back to his luxury apartment after a vodka-fuelled night, she told The Sun.
"I found some baby oil so spiced things up by covering us both in it," she said. "But just as we were about to launch into a wild sex session I heard this shrieking Latino voice and felt this weight crash on to us.
"She tried to grab me but luckily I was so oily she couldn't get a proper grip and I managed to lock myself in the bathroom."
Carroll's lawyer, Salman Lutfi, said his client had been released from prison and had been deported.
"He was made redundant in his job at HSBC so has gone to London to look for a new job."
The Central Prison in Dubai was "like a four-star hotel", Lutfi said.
"Food comes from hotels daily. It is new and very modern. There is a canteen and you can buy things. You just can't leave but otherwise it is very comfortable.
"Priscilla has called me crying because the people at the prison were cruel to her, but Toby and Danielle were happy."
Ferreira was still in prison, he said, because her passport had disappeared and she had to apply to the Brazilian embassy for another one. She was being held until her deportation.
Lutfi said Carroll paid $50,000 in legal fees for him, Spencer and Ferreira.
"He was the only one with money so he paid me. Danielle is crazy. She wants money for her story and is always telling stories," he said.
Spencer had told The Sun that Lutfi had tried to woo her.
"He started talking about taking me away to a romantic island," she said. "I was aghast. A lawyer involved in my case for sleeping with someone outside marriage was trying to sleep with me outside marriage."
Carroll's sister and mother, who live in Paeroa, confirmed he had moved to Britain but declined to comment.