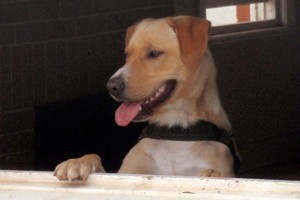 Time ran out for Lucky last month in the mountains of Afghanistan, after being rescued from the pound and drafted into the Australian Army.
The 22-month-old golden retriever-Labrador cross is now missing in action, presumed dead, after vanishing during the firefight that killed Commando Sergeant Todd Langley, Australia's 28th death in the decade-long war.
News of the explosive detection dog's probable death was delayed until all efforts to find him had failed, including ground searches, repeated calls for the dog on a loudspeaker and the offer of a cash reward.
Lucky had been found in the Canberra pound only hours before he was to have been euthanised, drafted in September last year as "EDD 499", and later left for Afghanistan after graduating from the School of Engineers' explosive detection training course.
Bomb detection dogs have become crucial in the fight against insurgents, with improvised devices responsible for many of the army's casualties.
Lucky was operating with a Special Forces unit which came under heavy attack from insurgents and broke away under a hail of small arms and rocket-propelled grenade fire.
"The tactical situation was such that it was impossible to safely follow the dog through and beyond the vegetated area insurgents were using as a fighting position," the Special Forces Operations Task Group commander, who cannot be named, said.
Lucky was last seen near a large group of insurgents that later came under a Coalition air strike and is believed to have been killed.
"Our dogs are important to our operations and our handlers form extremely close bonds with their dog but it also affects the whole team who enjoy the company of the dogs," the commander said.
Two years ago another bomb detection dog, Sabi, a black Labrador, was found 14 months after going missing during the fierce battle in which SAS Trooper Mark Donaldson won the Victoria Cross.