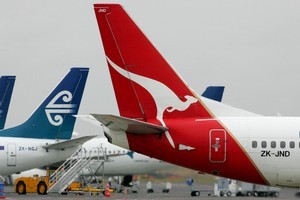 Qantas engineers have decided to stop work for 60 seconds on Friday as part of their ongoing dispute with the airline.
In addition to the one minute stop work action, two right-handed engineers have said they will conduct work for a week using only their left hands, the Daily Telegraph reports.
"This union action is unprofessional, makes a mockery of Australia's industrial laws and quite frankly could be a safety risk," a Qantas spokesman told the paper.
Australian Licensed Aircraft Engineers Association secretary Steve Purvinas said there were no safety concerns.
"It will have no impact on safety at all, both engineers have been aircraft engineers for more than 30 years, so I think they're more than capable of carrying out their work with their left or right hand," he said.
"Qantas is just being ridiculous over two engineers out of 1600 carrying out their work like this, it might take them three seconds longer to do up a screw."
-AAP