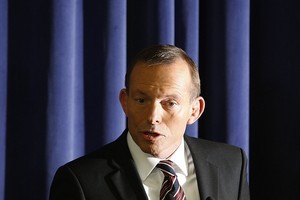 Federal Labor's popularity has dropped to a record low, as Opposition Leader Tony Abbott continues to extend his lead over Julia Gillard as preferred prime minister.
The latest Newspoll, conducted from Friday to Sunday, shows that in the two weeks leading up to the announcement of the carbon tax on Sunday, Labor's primary vote fell from 30 per cent at the end of June to a record low of 27 per cent over July 8 to 10.
Conversely, the coalition's support rose three percentage points to 49 per cent during the period - its highest primary vote since the Howard government in October 2001.
The Newspoll results, published in The Australian on Tuesday, was done before the final details of the carbon tax were released.
It found voter satisfaction with Ms Gillard's performance as prime minister improved slightly from a previous record low of 28 per cent at the end of June to 30 per cent over the weekend, while her dissatisfaction rating fell from a record high of 62 per cent to 59 per cent.
However, for the first time Tony Abbott has a clear lead over Ms Gillard as preferred prime minister, with his polling up three points to 43 per cent and hers down a point to 38.
Mr Abbott is now polling better than any opposition leader since John Howard lost the election to Kevin Rudd in 2007.
Voter satisfaction with the Liberal leader rose three points to 42 per cent, while his dissatisfaction rating went down three points to 49 per cent.
The opposition also recorded its highest two-party-preferred vote of 58 per cent and the ALP its lowest of 42 per cent, based on preference flows from the election in August last year.
The coalition's two-party-preferred vote is the second biggest in Newspoll history.
The previous record - 63 per cent to 37 per cent - was set by Kevin Rudd's Labor government in early 2008 when Brendan Nelson was opposition leader, the newspaper reported.
About 98 per cent of respondents would not have seen the government's detailed package on carbon pricing and compensation for industry and households, which began to be released at lunchtime on Sunday, the newspaper reported.
However the government did leak details of its carbon package during the survey period.
- AAP