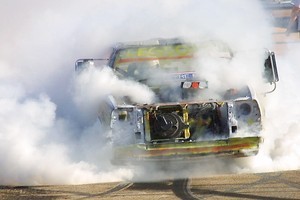 Participation in Britain's illegal street-racing scene has long been dominated by "boy racers" with a penchant for souped-up hatchbacks, tinted windows and bulky body kits.
But the attractions of fire-belching exhausts and nitrous-oxide boosters have spread to a new generation.
A crackdown on a notorious east London hotspot, where high-performance cars reach speeds of more than 160km/h, has identified a significant number of middle-aged thrillseekers among more than 200 illicit racers who flock to the area every weekend.
Dozens of police officers and local authority officials descended on Royal Albert Way in the Docklands at the weekend in an operation designed to curtail the growing use of the dual carriageway as a circuit by gangs of racing aficionados who pit their expensively revamped cars against one another.
Scotland Yard said yesterday that drivers from the ages of 18 to the mid-50s were approached by officers after cars were seen driving along the road close to London City Airport at speeds of up to 180km/h, while crowds of onlookers cheered and took photographs.
Among recent drivers at the event was the 50-year-old owner of an Aston Martin sports car.
Chief Inspector Guy Wade said: "The drivers tend to be ... in their 20s but we do notice a significant number who are older and into their 50s."
Police said the road had in the past been treated with oil by the racers to allow cars to "drift" or skid sideways while going around corners and roundabouts.
- Independent