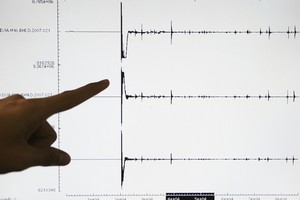 A 4.4 magnitude earthquake has struck near Melbourne, Australia, authorities have reported.
Geoscience Australia said it was centered near Korumburra, Victoria and struck at 1.32pm New Zealand time.
Residents turned to Twitter to share their experience of the jolt.
"Earthquake here in Melbourne, very short and sharp..minor tremblor," Andrew Moss wrote.
"My office mate and I both just felt our building on Queen St, Melbourne shake a little bit..." Matt Cowgill said.

Professor Ian Cartwright, of the School of Geoscience at Monash University, told Melbourne's Herald Sun faults which can cause earthquakes do lie under Victoria, but it is unusual for tremors to be felt across several suburbs.
"Even though we don't have major faults in Australia, there's always a little bit of movement on these faults and when they move we get small earthquakes," he said.
"Most of the earthquakes in Australia tend to be 2, 3, maybe magnitude 4."
He said it will take seismologists a "few hours" to determine exactly where the quake was located and how strong it was.
- HERALD ONLINE