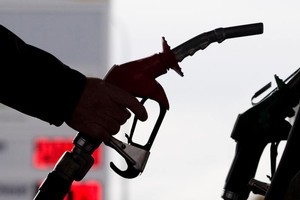 Motorists have been saved from a carbon tax impost on petrol in a major concession by the Australian Government.
"Families, tradies, small business people do not have to worry about a petrol price increase," said Prime Minister Julia Gillard.
Gillard also confirmed that self-funded retirees holding a commonwealth healthcare card would get the same assistance as pensioners, under a compensation package aimed at limiting the impact of a carbon tax on households.
The decision to exempt petrol removes a key plank from Opposition Leader Tony Abbott's campaign against a carbon tax.
"He's been trying to persuade Australians that petrol prices will go up, that's not true," Gillard said.
"Petrol prices will not be touched by carbon pricing."
Gillard said the exemption would not be a temporary measure, saying petrol would be "out now and out for the future".
A A$25 ($32.54) a tonne carbon tax would have added about 6c a litre to the cost of petrol.
It is unclear whether the Australian Greens have agreed to the exemption, having consistently argued against the measure.
Gillard would not say whether the minor party had backed down over the issue, but she did acknowledge the influence that independent MP Tony Windsor had over the decision.
Nationals frontbencher Barnaby Joyce said that the petrol exemption merely "accentuated the insult" of the tax, in that it was ineffective to begin with.
"It is not going to change the climate, it is not going to do anything to the temperature of the globe."
No matter what exemptions the Government made, the carbon tax would hit Australians hard, he said.
"[The Government is saying] you must thank me because instead of killing all the pets, I'm only going to kill the dogs and the fish and the birds, we're going to leave the cats alone."
Big business is not happy with the move, either. The Australian Chamber of Commerce and Industry said exemptions would simply shift the price burden of a carbon tax to other areas of the economy.
Chamber chief Peter Anderson said it was wrong for the Government to think it could isolate the impact of the tax in one area.
- AAP