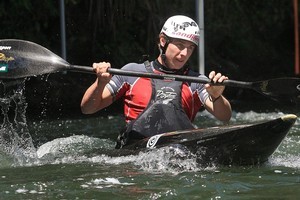 There are many paths towards an Olympic dream but it's unlikely any have the crocodile-dodging, death-defying, shoulder-popping, spine-compressing, knuckle-scraping intensity of Mike Dawson's.
The Tauranga kayaker is one of the best extreme paddlers on the planet - he bounces off boulders, powers over perilous precipices and launches himself down rapids that most of us would get dizzy just looking at. He's lost three friends to kayaking deaths - one by crocodile - and his is one of the most unusual avenues towards London next year.
The 24-year-old is trying to book a canoe slalom spot at the Games and his ambition gained serious credence last week in Slovenia when he became the first New Zealander for the best part of 20 years to make a World Cup slalom final.
"Racing extreme kayaking to fund a slalom campaign is like working two jobs to pay off the mortgage," Dawson explains. "I won around $4500 racing in America a month ago but it just went straight into the big black hole because it cost around $35,000 just to be based in Europe for a few months, having to buy time to train on artificial courses.

"That's the humbling reality for most New Zealand athletes - the addiction of the Olympic dream means whether you have resource to back your campaign or not, you're still going to make it happen."
Extreme kayaking and canoe slalom may sound similar but, at the highest levels, they're galaxies apart. It's like Phar Lap showjumping or Usain Bolt having a crack at the marathon.
What makes last week's World Cup result even more remarkable was Dawson's build-up.
A week earlier, the Kiwi was charging down a river in northern Italy, winning the multi-discipline freeriding world title at the Teva Outdoor Games. He took out the 3km race down the Valchiusella River, won gold in the slalom, then captured the sprint race through the town of Ivrea.
At the same time, his Olympic rivals were competing at the European championships after lengthy slalom-specific preparations.
"The Europeans were just way sharper and more onto it. Their national team selection races are so much harder and they probably had five or six world-class races before we rocked up to the first World Cup of the season."
Is he complaining? Hell, no. While the Europeans are slogging down man-made courses, Dawson goes exploring, heading off on expeditions to Mexico, Africa, or the South Island's West Coast.
In between winning seven national slalom titles, Dawson's spent his spare time paddling storm-swollen creeks in the Bay of Plenty and boarding planes to extreme races overseas where he's treated like a rock star.
The amiable athlete is as laid back as a surfie but has a brain like a broker. An entrepreneurial streak has helped him import kayaking kit, develop an adventure photography bent and form a video production company with a mate. In between, he skis, dabbles in triathlons and goes for epic endurance runs through the New Zealand bush.
While Olympic qualification levels are daunting - he needs a top-15 result at the world championships in Bratislava, Slovakia, in September or to win an Oceania title in Penrith in March to qualify a Kiwi boat - there's been a precedent.
In 1992, Donald Johnstone became New Zealand's first Olympic slalom representative in Barcelona, with his novel approach setting the standard.
"I really enjoyed my recreational kayaking and paddling hard rivers and it's almost an accepted Kiwi method," Johnstone said. "It gives you a really broad set of skills. Mike's paddling very difficult water at a really high level and to do that in two different disciplines is undoubtedly an achievement."
New Zealand's only subsequent slalom Olympians have been Owen Hughes (1996) and Luuka Jones (2008). Johnstone was most impressed with Dawson's 10th in the Slovenian World Cup, mainly because of the mistakes he'd made.
"He had one of the quickest times in the semifinal, although with a few time penalties. That's really good - it's much easier to make a fast paddler go through clean than it is to make a clean paddler go fast. He's having a good time and that's important too. It's not all about slogging it out in training."
Sadly three of Dawson's good friends have died in kayak-related tragedies, including Queenstown's Simon Davidson two weeks ago in Canada.
James Moore died in high winds and huge swells while paddling an outrigger between Maketu and Mount Maunganui in 2008; his craft swamped in freezing conditions.
South African Hendri Coetzee, one of the most experienced expedition paddlers in the world, was killed by a crocodile on a tributary of the Congo River in central Africa late last year, shortly after completing the first descent of the nearby Rusizi River.
Davidson drowned on the Red Creek in Canada's Banff National Park when his kayak overturned, throwing him into the rapids. Dawson saw Davidson a lot through summer as they used the Kaituna River for training. He was devastated at the 20-year-old's untimely death, using it as motivation for his World Cup breakthrough.
"These guys were leaders in kayaking and left the world far too soon. All kayakers are pushing the boundaries and sometimes there will be accidents - but to happen this close to home puts into perspective just how quickly life can change.
"In 2009, a group of us were stalked and chased off the river by a 4m crocodile in Zambia's Kafue National Park and we were just laughing and joking around. Hearing about Hendri was a brash wake up call."