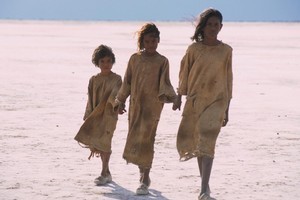 More than 220 years after HMS Supply anchored in Botany Bay, the arrival of the first fleet of British convicts, soldiers and settlers has been officially recognised as an invasion.
Despite the 1992 High Court Mabo decision overturning terra nullius - the legal fiction of "empty land" under which Australia was settled - the colonisation of New South Wales has always been referred to as an "arrival".
The wording was never accepted by indigenous Australians, and for the past two decades they have marked Australia Day as "invasion day".
Now the Sydney City Council has followed suit. The council's decision followed a petition seeking a change based on dictionaries defining invasion as "to take possession, to penetrate, to intrude upon, to overrun".
"[Europeans] came in and they did not leave," councillor Marcelle Hoff said in a debate reported by the Daily Telegraph.
"It's intellectually dishonest to not use words that offend some people."
By a 7-2 vote, the council agreed to a new Aboriginal and Torres Strait Islander statement saying: "In 1788 the British established a convict outpost on the shores of Sydney Harbour.
"This had far-reaching and devastating impact on the Eora Nation, including the occupation and appropriation of traditional lands."
Not all councillors agreed to the change. "Healing the past will not be achieved by alienating others," the Telegraph reported Phillip Blackhe as saying. "The word invasion has served its useful life. I do not believe it should be used in our documents."
But Paul Morris, head of the Metropolitan Local Aboriginal Land Council, told the Telegraph that just as Jewish people would not accept a watered-down version of the Holocaust, Aborigines should call the events of 1788 an invasion. "We were invaded," he said.
"It is the truth and shouldn't be watered down. We wouldn't expect Jewish people to accept a watered-down version of the Holocaust, and if you ask native Americans, they wouldn't want the truth of their history watered down, so why should we?"
Meanwhile, the Northern Territory indigenous organisation the Northern Land Council has backed proposals to recognise Aborigines in the constitution. "Over 100 years ago, when the constitution was drafted, Aboriginal and Torres Strait Islander peoples had no say in a document which is the foundation of all our national laws and institutions," chairman Wali Wunungmurra said.
"The 1967 referendum removed some of the negative parts of the constitution affecting Aboriginal and Torres Strait Islander Australians but now it's time to recognise the positives - the great contribution made by Australia's first peoples to our country."