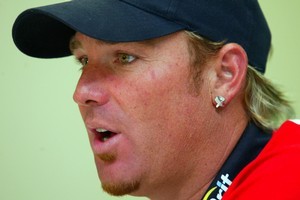 Shane Warne's transformation from Aussie larrikin cricketer to a celebrity gent appeared complete this week as he and girlfriend Liz Hurley made their red-carpet debut as a couple.
A slim and trim Warne, 41, wore his hair smoothed down but it was his smooth face that attracted most attention as the pair headed to Elton John's White Tie and Tiara Ball in London.
"He looks like a waxwork, all plucked and sculptured," one observer said on Twitter.
Warne's eyebrows looked as though they had been plucked - they were shaped into a definite arch - and his smooth, shiny face made it look as though he had make-up on.
Observers have noted in recent weeks that as Warne has lost weight, his once-weathered appearance has changed dramatically.
Cosmetic surgeon Shahab Mahdi last week told the Daily Star newspaper he believed Warne might have had cosmetic surgery. "The difference in Shane's appearance is dramatic. In my opinion it looks as though he has had a facelift."
Warne, though, has denied he has had surgery.
After one blogger on Twitter wrote: "How much surgery has shane warne had? Lol, the male version of jordan!" Warne retaliated with: "Questions re faclift/ Botox etc are absolute rubbish."
Warne is believed to have lost around 10kg over the past few months, under Hurley's influence.
Some urges, though, die hard. A recent posting on his Twitter page reads: "Feel like a hot pie with copious amounts of sauce with crinkle cut chips!! What the best pie?'
Just minutes later, though, he posted again, saying: "NO Shane!! 78kg is target currently 82.5. Settle on a protein shake with an apple and banana - sob."
In a recent interview, Warne said he was looking forward to spending more time with Hurley.
"She's a lovely lady. We get on really well and I'm spending a lot of time in England this summer, working for Sky," he said.
"We'll wait and see what happens between Liz and I - but at the moment things are great."