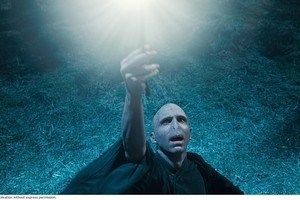 Harry Potter fans will be able to find out more about their favourite stories after JK Rowling unveiled her new website to bring the teenage wizard's adventures to the "digital generation".
Pottermore will include previously unpublished material about some of her characters and allow readers to interact with the stories.
Speaking at a news conference at the Victoria and Albert Museum in Kensington, central London, Rowling said the site was a place for fans to "share" the books.
"I wanted to give something back to the fans that have followed Harry so devotedly over the years, and to bring the stories to a new digital generation," she said.
"I hope fans and those new to Harry will have as much fun helping to shape Pottermore as I have.
"Just as I have contributed to the website, everyone else will be able to join in by submitting their own comments, drawings and other content in a safe and friendly environment - Pottermore has been designed as a place to share the stories with your friends as you journey through the site."
Fans will be able to work their way through the books and follow Harry to Hogwarts where they are sorted into one of the school's rival houses and become student wizards themselves.
The website, which is part social-networking forum and part computer game, allows fans to access material cut from the original books and read insights from the author along the way.
Rowling said the idea partly came because of the demand for eBooks of the novels.
"I wanted to pull it back to reading, I wanted to pull it back to the literary experience, the story experience and this is what emerged."
She said some of the material for the website had been "literally" dug out of boxes.
"The world has kind of out-stripped me in the sense that back in 1998 I knew I was generating a lot more material than would ever appear in the books.
"To me at the time I thought 'Who would ever want to know the significance of all these different wand woods?'
"This was all in my head. So at that time the only way I could imagine ever putting that material out there was in the form of a printed book."
She added fans might still see the publication of a Harry Potter encyclopedia, with all profits going to charity, but she would not publish another novel.
"This was about the give-back. The technology now existed to do something outside the books and the films for existing fans."
Fans will be able to register from today for an online challenge on the website on July 31 with one million people who successfully beat the challenge being invited to join Pottermore early.
The website will open to all in October.
There will also be an online store where fans can buy eBooks and digital audio books of the teenage wizard's adventures.
-AAP