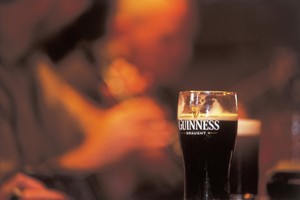 For generations of literary tourists it has proved a puzzle as time-consuming and challenging as reading the book in which it was originally set.
In Ulysses, James Joyce defies readers to cross Dublin without passing one of its 1000 pubs. The debate has raged in bars and snugs on the banks of the Liffey ever since being laid down in the sprawling 1922 masterpiece.
Software developer Rory McCann has now put an end to the black-stuff-fuelled arguments after more than a year of trying to find a high-tech solution. Despite never having read the book, and with little more than a passing interest in his city's most celebrated writer, he has worked out how to complete the alcohol-free odyssey with the help of a computer algorithm and an online map.
"It was something apocryphal you always hear that it is not possible to cross the city without running into a pub, and I thought with modern computers maybe we could look into it again," he said.
The publication of the map, timed to coincide with the annual Bloomsday on June 16 in which Joyce fans recreate a day in the life of the book's protagonist, Leopold Bloom, has already sparked a huge level of interest and a number of rapid corrections.
Among the discussion topics is whether it is within the spirit of the challenge to skirt the length of the Guinness brewery St James' Gate, or even to pass by restaurants or modern bars where refreshment could be on offer to the thirsty wanderer.
Starting in the northwest by the Royal Canal, the route passes through Stoneybatter - carefully avoiding McCann's favourite pub Mulligan's - before crossing the river, passing the brewery and then zig-zagging southeast towards the traditional southern boundary of the Grand Canal.
"Some people are a bit annoyed that I have ruined a perfectly good argument that they can have in the pub. I feel it is pretty watertight now and two people have already cycled it and said it works," said McCann. "The next challenge could be to try the opposite and try and cross Dublin visiting every pub."
- INDEPENDENT